Giovanna Fletcher recalls being fat-shamed by nurse 11 days after giving birth
20 August 2018, 07:38 | Updated: 19 October 2018, 20:18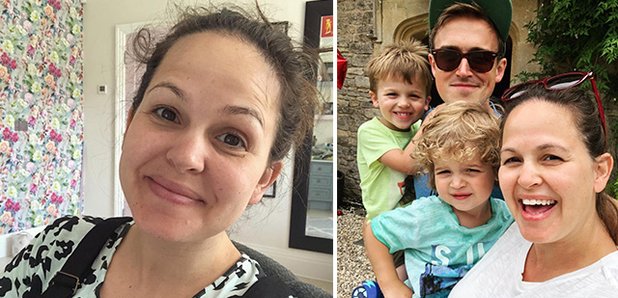 Mum-of-two Giovanna admits to being 'fat-shamed' by a nurse who asked for a photo with her husband Tom.
Giovanna Fletcher, 33, who is pregnant with her third child, revealed that she was left reeling when a nurse body-shamed her just 11 days after having second son, Buddy.
The author, who is married to McFly's Tom Fletcher, 33, revealed that the nurse asked her husband for a photo whilst the couple were at the hospital treating a nail infection Buddy had picked up.
She told Fabulous Online: "11 days after giving birth to Buddy, he had to go into hospital with a nail infection.
"One of the nurses asked Tom for a photo, which was fine. I mean, I was quite emotional at the time. I had just finished feeding and whatever else.
"But before taking the photo she said: 'Oh look, Mummy's still got her tummy' and sort of laughed.
"I was like, 'Oh, that's a bit mean, but okay.' I was all over the place as we had to leave Buzz at home and we were there with Buddy and my emotions were all over the place.
"And then she said to me, 'Do you want to be in the photo?' I said no, literally holding back the tears. Then she said, 'Oh no, maybe another time when your face has slimmed down.'
"That wasn't a comment made just unaware...there was some meaning behind that."
Giovanna also opened up about discovering stretch marks at the age of nine, and admitted she'd spent twenty years disliking her body. But whilst the nurse's insults had hurt, the comments had inadvertently managed to make Gi appreciate every aspect of herself.
She continued: "A few days later, I was getting out of the shower.
"Everything was slippy and wobbly and all the stretch marks were there and I thought, 'How do I feel about this? How do I feel about this body that I've hated for two decades?'
"I then had a moment of realisation and was like 'It's amazing. My body is amazing.
"I've hated it for decades because other people have their opinions on it and we see people looking to airbrushed and perfect.
"Ultimately what was negative got turned into a positive. People need to learn not to just say stuff.
"But if someone does say something like that to you, we need to learn that it's just words. How we interpret it and how we let it affect us is what we can control."
Giovanna has gained a huge following with her funny, honest anecdotes about family life - and her comments on encouraging body positivity.
She and Tom have been married for six years, having grown up as childhood sweethearts, and are parents to Buzz, 4, and Buddy, 2.
The couple are preparing to welcome baby number three very soon.
WATCH! Newborn baby clings to mother's face: