Funny Lady! 7 Female Comedians Who Regularly Have Us In Stiches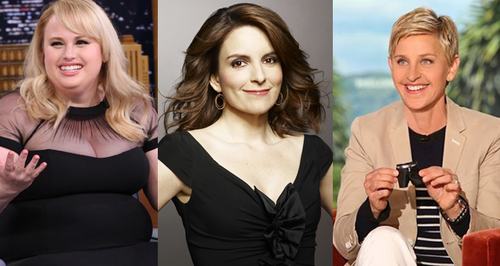 The new wave of fabulous and funny female talent has well and truly broken through Hollywood's glass ceiling and is calling out traditional ways of thinking in the best possible ways!
Rebel Wilson
Writer, comedian and actress, we've been seriously crushing over the 35-year-old Australian actress long before she appeared in the musical comedy 'Pitch Perfect' alongside Anna Kendrick.
The bubbly blonde stole our hearts when she captured the role of Brynn in 'Bridesmaids' alongside the equally brilliant Kristen Wiig and Melissa McCarthy.
We never love her more than when she's belting out tunes from the top of her lungs or hitting back at the "cool kids" with her witty one liners...
Tina Fey
There's no denying that we've got a serious case of girl crush on the Emmy Award and Golden Globe winner.
A producer, actress, comedian and mother, the 45-year-old has achieved cult status thanks to her brilliant stint as head writer at 'Saturday Night Live', as well as countless other projects that she's helmed.
Plus did we mention, she does a priceless impersonation of her daughters...
Amy Schumer
It's no surprise that the 34-year-old New Yorker has skyrocketed to fame recently as she continues to have audiences in stitches with her own brand of sometimes uncomfortable, always hilarious stand-up.
From being BFFs with Jennifer Lawrence, to her role as a feminist icon, we're head-over-heels wit the Queen of the comedy circuit.
Dawn French
Very much one of our own, our beloved Dawn French can hold her own amongst the new wave of American comedians NO problem.
From 'French and Saunders' to 'The Vicar of Dibley', the BAFTA nominated 58-year-old actress' huge body of work seems endless.
Her spoofs and sketches have long has us rolling in the aisles. Three cheers for Dawn!
Amy Poehler
Last year was a BIG for the 44-year-old actress, director and comedian and by the looks of things 2016's going to be even bigger.
As her career goes from strength to strength, Amy continues to celebrate the success of huge projects, including co-hosting the Golden Globes and voicing the protagonist Joy in Pixar's 'Inside Out'.
After being awarded a star on The Hollywood Walk of Fame in 2015, we continue to expect GREAT things from this talented lady.
Ellen DeGeneres
Now we don't like to gush... but Ellen is undoubtedly one of our favourite women in the whole world.
An author, record label owner, openly lesbian TV chat show host, friend and therapist to the rich and famous... (we could go on), but the point is, there aren't many frontiers left that the 58-year-old hasn't conquered. Long may she reign!
Sofia Vergara
The 43-year-old Columbian-born American actress is seriously hot property in the box office, but as well as her stunning looks, we love her fabulous ability not to take herself too seriously and call out her interviewers on their ridiculous questions.
In this clip the 'Modern Family' and 'Hot Pursuit' actress has us in stitches as she plays along with the guessing game 'Head's Up' on American chat show 'Ellen DeGeneres'... but in Spanish!
Hats off to the girls!