Holly Willoughby to take her kids out of school during I'm A Celeb
4 September 2018, 11:26 | Updated: 19 October 2018, 18:37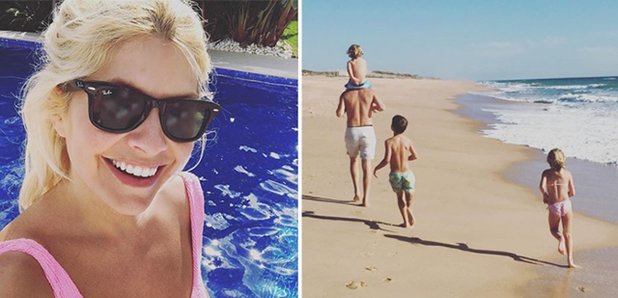 This Morning host Holly Willoughby has confirmed that her three children will be heading to Australia with her whilst she co-hosts I'm A Celeb.
Mum-of-three Holly Willoughby will be taking her children out of school and lugging them to the other side of the world after it was confirmed she would co-host the 2018 series of I'm A Celeb with new dad Declan Donnelly.
Holly, who is mum to Harry, 9, Belle, 7, and Chester, 3, admitted that she'd been in talks with the school, as her hosting duties Down Under fall within term-time.
Talking to pal Phillip Schofield on This Morning, Holly revealed: "The weird thing is, when I first found out, it's very exciting.
"It's kind of bittersweet obviously, and then you're working out the logistics of how you're going to go and how long for – and the kids are coming with me – and I was speaking to the school and how that's all going to work.
"Dan and my mum and dad who are coming out as well, and suddenly all logistics are sorted and then I go, 'Oh, there's going to be like spiders and stuff there…"
She also disclosed that new parents Declan Donnelly and wife Ali Astall will be bringing their newborn daughter, Isla, with them.
Holly is known for her dislike of creepy crawlies, having faced a fair few during her stint on This Morning.
She continued to reveal that there are a fair few things she's going to find difficult about her new role, and admitted: "There's three things I'm not looking forward to...
"So the eating challenge – even if you were eating chocolate and you opened your mouth to show me what was in there, I wouldn't like that.
"So the fact [someone] might eat a body part that's not meant for eating, it's going to be horrible!
And the smells, I'm not brilliant with smells…. And when they come out and have still got stuff on them."
WATCH! Holly Willoughby freaks out as a snake crawls up her skirt: