Dan Osborne and wife Jacqueline Jossa: Are they back together after Celebrity Big Brother?
12 September 2018, 11:07 | Updated: 19 October 2018, 18:58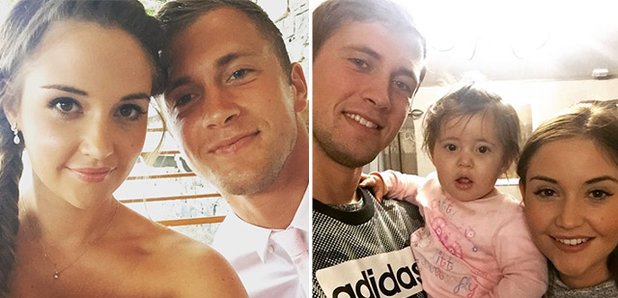 Is Dan Osborne still single? As he prepares to leave the CBB house can Dan and Jacqueline repair their problems and get back together?
Jacqueline Jossa and Celebrity Big Brother 2018 contestant Dan Osborne were couple goals after a whirlwind romance saw the stars get married and have two children in the space of three years.
However, the two have been plagued with troubles recently which even led to them splitting, with former TOWIE star Dan leaving their marital home whilst EastEnders actress Jacqueline was heavily pregnant with their second daughter, Mia.
Since Dan's stint in the CBB house, there is new hope for the couple. Here's a look at their relationship timeline after Jacqueline made an emotional statement on Instagram:
How did Dan and Jacqueline meet?
Jacqueline and Dan met in 2013 at an awards ceremony, which was swiftly followed by a number of 'flirty tweets', causing rumours of a relationship between the pair.
At the time, Dan was already a father - to six-month-old Teddy, whom he shares with ex-girlfriend Megan Tomlin.
The dating rumours were soon put to an abrupt end as Dan was then seen taking Ferne McCann out on a date during one of the TOWIE episodes.
Dan was promptly hit with trolling online, so shortly after, Jacqueline tweeted: "Guys leave ‪@DannyO alone, he's single and can do what he wants."
She further confirmed their statuses after a fan asked her if they were an item, and she responded with the word "friends".
However, a few months after, Jacqueline and Dan were spotted hanging out again, and it didn't take long before they were populating one another's Instagram pages.
They also openly tweeted how much they missed one another - and soon after Dan confirmed they were a couple.
Jacqueline falls pregnant with Ella
In August 2014, Jacqueline and Dan announced that they were expecting their first child together.
At the time, Jaqueline admitted it was a 'shock' and the couple had dashed straight to a supermarket to buy a pregnancy test.
Ella Osborne was born via a water birth and is now three years old.
Dan and Jacqueline get engaged
Four months after Ella was born, on 15th June 2015, Dan announced he had proposed to Jacqueline - and she'd said yes.
He shared on his Twitter page: "She said YES!!! I am the luckiest man in the world to be marrying the woman of my dreams @jacquelineMjos !!!"
They pair were due to get hitched in 2016, but ended up postponing the date, having failed to find their 'perfect venue' in time. But, in July 2017, they tied the knot in Delamere Manor, Cheshire.
Jacqueline Jossa confirms second pregnancy
15th January 2018 saw Jacqueline reveal she and Dan were expecting again - and again the pregnancy wasn't planned.
However, tough times lay ahead for the couple, and Dan was pictured moving out of their marital home in May, amidst split rumours less than a year after their wedding day.
Dan revealed constant arguing had driven the couple to separation, saying: "I'm still staying with a mate. I left because we were arguing and it is such a waste of energy.
"I still obviously care for Jacqueline but if we can't make each other happy then we shouldn't stay together. Life is too short."
Are Dan and Jacqueline back together?
Dan moved back into their house before Jaqueline gave birth to their second daughter, in an attempt to be by the side of his estranged wife.
They were then spotted together in a local park trying reconcile, but sadly it didn't work for the pair.
Mia Osborne was born in June this year, and became the couple's second child.
In July 2018, Jaqueline Jossa seemingly lashed out on social media against CBB bosses after rumours began to circulate that Dan was tipped to enter the house, alongside Love Island beauty Gabby Allen, whom he'd been spotted canoodling on a boat with a few weeks earlier.
Jaqueline tweeted: "This industry and a lot of people in it will do anything to ruin and hurt people. I'm fully over it all. Someone get me back to acting now!"
Celebrity Big Brother brings new hope for the couple
Dan has revealed during his time in the CBB house that he hopes the time away from each other means they can clear things up.
He said: "That's the one thing with Jacqueline. Usually when you're with someone, you go through a bad time and you sort of lose that attraction to them, but I've never lost the attraction to her."
He then revealed that if the pair were to separate for good he would throw all focus at his work and his kids.
"I honestly think if me and her break up, we're done, I would be single. That'd be it. I would honestly just concentrate on my kids and work."
Are they back together after Celebrity Big Brother?
After Jacqueline encouraged her Instagram followers to vote for Dan ahead of the Celebrity Big Brother final may predicted the pair might rekindle their relationship.
She shared his number to vote and a picture of him alongside a caption which read: "He's made it to the final and I am so happy for him. Imagine if he wins. He's changed a lot of people's opinions and deserves this moment.
Please pick up the phone and vote and make it all worth it. His kids miss him but to have daddy win would mean the world to them."
After Jacqueline failed to appear at the final like other finalists girlfriends such as Ryan Thomas' other half Lucy Mecklenburgh, stories emerged that she had 'snubbed' him.
But it now appears the pair indeed are back together and Jacqueline confirmed the news with an adorable instagram snap of Dan cuddling up to their youngest daughter Mia who was born in June.
The caption read: "It's good to have this man back. My girls where so excited to see daddy. He done so well. Ups and downs, laughter and tears. I love you. Always".
WATCH! Towie hunk Dan Osborne strips off with Dreamboys: