Jeff Brazier offers advice for widower Simon Thomas ahead of Father's Day
12 June 2018, 06:36 | Updated: 1 April 2019, 08:11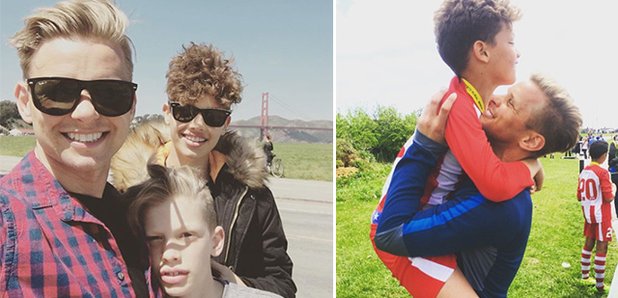 TV personality and life-coach Jeff Brazier has offered advice for widower Simon Thomas, who is facing his first Father's Day as a single parent.
Jeff, 39, who sadly lost mother-to-his-children Jade Goody to cervical cancer in 2004, has brought up their two sons, Bobby, 15, and Freddie, 13, as a single bereaved parent, and reveals that there are key elements to help children deal with their grief.
After acknowledging the heart-breaking news that former Sky Sports presenter Simon Thomas lost his wife late last year after a short battle with cancer, Jeff explained that in these tragic situations, you have to put your children first.
The presenter told Heart: "The biggest and most important thing is to make sure, regardless of what you've done with your grief, that your children have expressed theirs.
"That your children are in the habit of communicating how they feel, whether its good, bad, ugly, horrible…then they are always going to be able to cope as an adult."
The star admitted that, generally, men find it harder to open up, but communication is key to keeping the family as one unit.
Jeff explained to Heart: "As a parent of bereaved kids – especially fathers – just make sure your kids are communicating how they feel, it's not necessarily something that men do particularly well...we've got to be flexible to find that in ourselves.
"It may not have been inherent within us when our partners or ex-partners were here, but it's something that we have to change for the good of our children because we will always be their example, their role model.
If we're closed up, then they're going to be. And if we're open and telling each other how we feel, whether it's good or bad, then they're going to feel that's permission for them to do the same.
Jeff, who has been working alongside care.com, reveals that often, fathers struggle to find a perfect balance between spending time with their children and earning a living - and this is even harder as a single parent.
With as many as 97% of men going back to working full time after having children, Jeff explains that it's important to understand what your children need the most.
The star told Heart: "In this day and age we put a lot of pressure on ourselves to provide our children with what we didn't have when we were growing up - there's sometimes a better balance to be had.
"I have to check this all time, if I feel like I'm working a lot I think to myself 'well great because you're earning a bit more' but then I don't feel like I need that extra income, what I feel like I need is that extra time with my children."
Jeff often thinks about how he wants his children to look back on their upbringing, explaining to Heart: "They only get one childhood, and when they're 21 and they're sitting in a coffee shop speaking to their friends about their childhood memories, what do you want their recollection of you, their experience of you as a parent, to be?
"Do you want it to be that 'well you know they weren't really around as much as I'd like, we didn't make as many memories, but I had the Xbox and a telly in my room and this that and the other'...or do you want them to say 'oh we did this one day and oh I always remember when I did this with my mum'?"
"We have to maintain the perspective that their childhood is a one off thing that we need to make the most of - it's priceless and we need to treat it as such."
For more information on Care.com, the world's largest online destination for finding and managing family care, visit Care.com
WATCH! Jeff Brazier opens up about Jade Goody: