Katie Piper acid attack: What happened to the model and what did she do before
5 July 2018, 14:29 | Updated: 19 October 2018, 13:04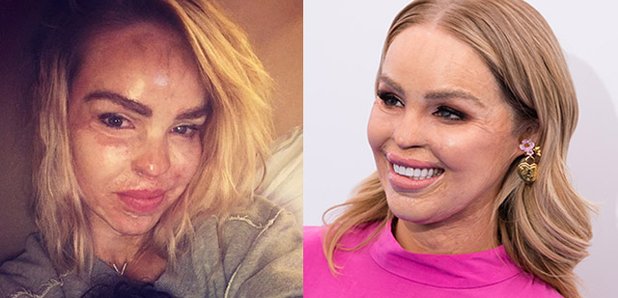 Many argue that Katie Piper suffered a fate worse than death after becoming the victim of an acid attack. The aspiring model has had over 250 operations and will continue to need more for the rest of her life.
Katie Piper was just 24 years old when she had acid thrown in her face as she left her house one afternoon in March 2008.
Before the attack, Katie was an aspiring model and presenter, who had studied beauty therapy.
In her early twenties, Katie finished as a runner-up in the Miss Winchester beauty pageant in 2006. She then moved to London to pursue a career in front of the camera, modelling for glamour and fashion magazines. She was also due to take part in model-based reality show, Candy Crib.
However, with many asking what happened to Katie, the day before she was due to film, she was doused in sulphuric acid after abusive ex-boyfriend Danny Lynch roped thug Stefan Sylvestre in to do the dirty work.
Danny, whom Katie had met through Facebook, had physically and emotionally abused her in a short but destructive two-week relationship.
Days before the attack, Danny had knocked Katie unconscious in a hotel room and then proceeded to sexually attack her, before threatening her with a razor blade and terrifying her into silence.
Promising to keep quiet, Katie was plagued with incessant calls and bullying texts from Danny, who insisted she checked her emails for a message he'd sent, explaining that he wanted to give her a 'present'.
With her internet connection down, an exhausted Katie left the house to use the Internet cafe nearby, whilst on the phone to Danny.
However, she didn't get that far, and soon discovered that the 'present' was a cup full of sulphuric acid thrown in her face by Stefan Sylvestre.
Katie wrote in her book, titled 'Beautiful': "I spotted a young guy in a hoodie crossing the road and coming towards me, with his arms outstretched and a coffee cup clasped between his two hands. He looked like a drug addict or a beggar.
"I felt sorry for him. I rested my mobile in the crook of my neck and reached into my bag to give him some money.

"Splash. He chucked the contents of the cup over my face. For a moment, I didn't understand what had happened. And then the pain hit me – an explosion of agony, unlike anything I had ever experienced before.

"It spread through my body like fire.

"I could feel my face burning, so hot I thought it was going to burst into flames.

"I heard a horrible screaming sound, like an animal being slaughtered. Then I realised it was coming from me."
All the while Danny was listening on the phone.
Katie spent an hour waiting for an ambulance after stumbling into a nearby coffee shop for help.
Since the attack, she has undergone over 250 operations to improve her physical functionality. These include operations to help breathe through her nose, and hours upon hours of psychological therapy to deal with the trauma of the attack.
Katie has described the aftermath of an acid attack as "a life sentence."
Since that fateful day, Katie has focused her energies on raising awareness for burns victims, and is founder of The Katie Piper Foundation charity.
She has also found love with carpenter Richard Sutton, with whom she shares four-year-old daughter, Belle, and Penelope, six months.
WATCH! Katie Piper gushes about motherhood: