Twitter Spat: Kim Kardashian Versus...EVERYONE!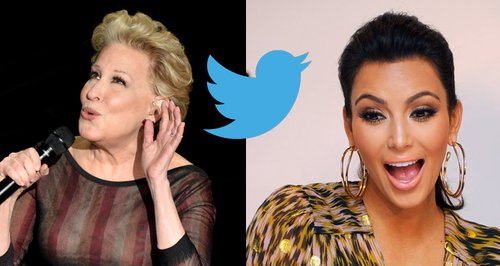 It's safe to say the internet has NOT stopped talking about THAT selfie, recently posted by Kim Kardashian West.
Watch the biggest Twitter spat of 2016 so far and get all the lowdown on exactly what's going down in Celebville!
Hollywood can be a dog eat dog world, but the recent furore surrounding 35-year-old Kimmy K, takes the biscuit.
After posting the explicit photo to her Twitter account, Kim suffered a bit of a backlash...
Check out the ongoing feud here:
There was Bette Midler kicking it all off:
Kim Kardashian tweeted a nude selfie today. If Kim wants us to see a part of her we've never seen,
she's gonna have to swallow the camera.

— Bette Midler (@BetteMidler) March 7, 2016
And Brooklyn Beckham's gal pal Chloe Moretz:
@KimKardashian I truly hope you realize how important setting goals are for young women, teaching them we have so much more to offer than-

— Chloë Grace Moretz (@ChloeGMoretz) March 7, 2016

Then Piers Morgan waded in on the battle of course:
I know the old man's $50 million in debt, Kim - but this is absurd.
Want me to buy you some clothes? https://t.co/hEA9osB2QF

— Piers Morgan (@piersmorgan) March 7, 2016
The reality star penned an essay saying she wouldn't apologise for being 'empowered' by her sexuality on her website and app 'KimKardashianWest.com'
"I am empowered by my body. I am empowered by my sexuality, she wrote.
"I am empowered by feeling comfortable in my skin,' she said. 'I am empowered by showing the world my flaws and not being afraid of what anyone is going to say about me.
"And I hope that through this platform I have been given, I can encourage the same empowerment for girls and women all over the world."
Of course, after all this went down, no-one even believed that Kim was funny enough to have written the Tweets herself, with fans and critics alike suggesting her younger sister Chloe Kardashain or even husband Kanye West may be responsible for the offending messages.
OUCH!