Lisa Riley realised her eggs 'were rotting garbage' as her IVF dreams ended
8 July 2018, 00:00 | Updated: 12 November 2018, 17:51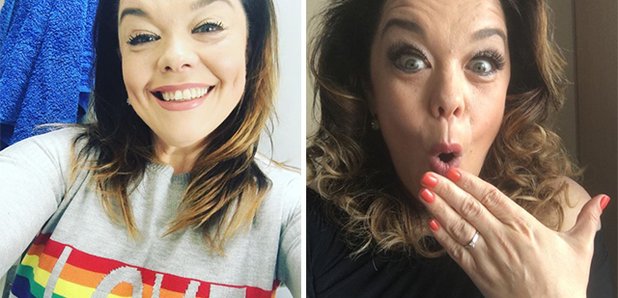 Lisa Riley's hopes of becoming a mum were cruelly taken away after a round of IVF revealed that it would be 'highly unlikely' that she would successfully conceive - but she's told Heart that she's OK with that.
Lisa Riley has recalled the moment she realised she would never be a mum - but claims she is at peace with her future.
The 41-year-old underwent IVF treatment in a bid to start a family, but was told by doctors that the procedure would not work.
The former Emmerdale actress told Heart: "I looked at reality and that was reality.
"It was one of those things - the reality is that my eggs don't work - they're garbage - and I can't sit here and fluff it up and say 'oh well maybe one day' - no.
"It's like, if the avocado was completely black, it's off, and you're not gonna eat it are you? You've got to face facts, that's the way life is."
Since the news, the Loose Women panelist has been refreshingly honest her decision not to keep trying for a baby.
Lisa added that she is content in her life and, although the news was a devastating blow, she's now OK with it.
Lisa admitted that a knee-jerk reaction from a lot of people was to ask if she would want to adopt, but that was never an option for her.
She explained: "People say 'do you want to adopt'? And it's like 'no, I've told you what I think'.
"I'm really content in my life and I love my life - because I will now forever be the person who's never had a child, but I'm OK with that, and it's OK for anybody to feel like that."
"It's not like we women were put on this earth just to make babies. There's a lot of difference to be made, and a lot of change that can impact other people."
Speaking about why she was certain of her decision to not pursue more rounds of IVF, Lisa revealed to Heart that the financial and emotional drain would have been negative things that she did not want in her life.
Advising others in similar situations, Lisa explained that the best thing to do is just accept the fate you've been dealt.
She said: "I wouldn't want people to be so drained financially because it is so expensive.
"And I think if you've got a specialist that you can trust you can say 'look, let's be honest here, what the eye can't see can't lie'.
"If your readings are not anywhere near where they should be in a moderate sense, then you are a better person to walk away and think 'd'you know you know what it's OK, you're OK to be the person who doesn't have a child, it's not meant for everybody.
Lisa has become an inspiration to many with her transparent honesty about all aspects of her life. The actress shed an incredible 12 stone in 18 months and has since encouraged others to embrace a healthier lifestyle.
After the success of her book 'Lisa Riley's Honesty Diet', the star has now released a sequel 'Lose Weight For Life', which builds upon her honest approach to her transformation.
Speaking of her new book, Lisa told Heart: "People have just had insanely brilliant results, and they wanted that aspect of more honesty about the recipes, choice of recipes, more things they can do with the family.
"I thought I'd answered every question about denial and being honest with yourself, but I realised that I hadn't even been that honest and people wanted more.
"So all the questions I got off the back of the book, I wrote everything down and thought 'this is it now, I want nobody to have any excuses, any denial, any way they can tell a porky pie'.
"I've covered everything, any query, or worry, or situation - even dining out with your friends - it's all in the new book and I'm so proud of it."
Lisa Riley's Lose Weight For Life is out now.
WATCH! Carol McGiffin discusses new facelift on Loose Women: