Nadiya Hussain: husband and family life revealed
16 July 2018, 14:54 | Updated: 16 July 2018, 14:56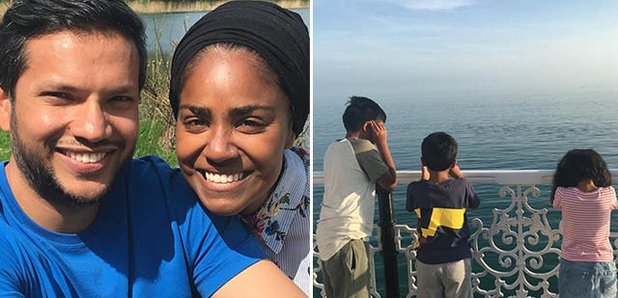 Nadiya Hussain was forced into an arranged marriage to Abdal Hussain at the age of 19, which she has said was 'one of the worst days of her life.' But the two now have a wonderful love story to tell.
Nadiya Hussain shot to fame with her culinary wizardry after winning the 2015 series of Great British Bake Off. The mum-of-three has previously admitted that if it wasn't for her husband Abdul, she would never have entered.
After trying and failing to get his wife to enter the year before, Abdul took it upon himself to enter her for the following series. Nadiya revealed Abdal said to her: "You've been at home for the past ten years looking after the children. When are you going to do something for you?"
Here's what else we know about Nadiya's husband and family life.
How did Nadiya and Abdul meet and when did they marry?
Nadiya and Adbul met through their families when she was 19, and the two were forced into an 'arranged marriage' just six months after they first met.
Entering into marriage after only meeting the once before, the GBBO winner has previously revealed that it was 'one of the worst days of her life' and she cried the whole way through.
However, the arranged marriage has had a happy ending, as the couple are now very much in love and enjoying each other's companionship.
She has said of their marriage: "Our rule was always that regardless of what happens, we can't leave each other. So that meant we had to work through everything.
"Marriage isn't easy, especially when you don't know somebody very well. There were definitely times when I could have said, 'I'm done. I'm not enjoying this any more'. But we have always been very happy. I'm one of the lucky ones."
Are Nadiya and Abdul going to marry again in the UK?
Nadiya has admitted that she is keen to marry Abdal again in Britain - twelve years after their Islamic marriage.
She told The Sun: "We're married Islamically but we've never done the proper vows here."
The Bake Off star has also mentioned that she would be 'much happier' the second time around, now she knows she's in love!

Do Nadiya and Abdal have children?
The couple share three children - sons Musa, 9,and Dawud, 8, and five-year-old daughter Maryam.
WATCH! 5 of the naughtiest Bake Off innuendos: