Paul Chuckle's emotional tribute to Barry days after shock bone cancer death
8 August 2018, 10:53 | Updated: 8 August 2018, 12:41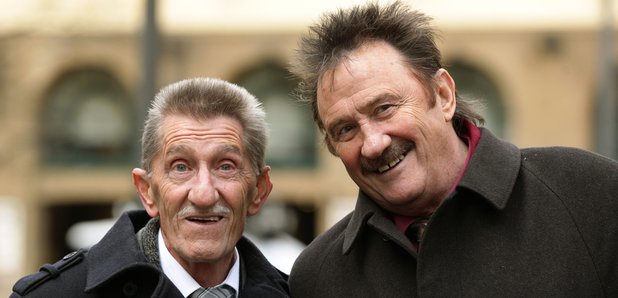 Paul Chuckle has released a heartbreaking tribute to his late brother Barry, who passed away aged 73.
Paul Chuckle "knew nothing" of how ill his brother Barry was until he passed away.
The 70-year-old has released a lengthy statement about his 73-year-old brother and comedy partner, who died on Sunday.
Paul, who worked with his older brother for 44 years, wrote: "I knew nothing of how serious his illness was until fairly recently.
"He always said that he wanted to die on stage and that he would work right to the end which he more or less did.
"He'd been in a lot of pain with his legs for quite a while and I thought it was sciatica which I've had trouble with in the past, so I knew how painful it can be.
"And he told me that he thinks that's what he'd got."

Credit: PA Images
Paul revealed he believed Barry kept the extent of his illness quiet in order to spend the remainder of his life doing what he loved most - entertaining and performing.
Paul added: "I also think that he knew that if myself or our manager Phil Dale found out that it was or could be more serious, we would have said to him you have to stop working.
"Plus Phil would have stopped putting work in our diaries. But our Barry kept it to himself and he kept it from me, knowing how close we were and we have always been!
"He was a trooper in every sense of the word and right to the end!
"Now thinking back, we did pantomime at Nottingham, lots of night club and university dates followed by 24 dates in the summer touring at major holiday centres and resorts."

Credit: PA Images
Delving further into his brother's secret illness, Barry continued: "We then started touring again on the night club scene after which we recorded the new series for Channel 5 titled Chuckle Time, and Barry was fine and loved it, especially filming the new TV series.
"While we were recording the show he had sporadic sciatic pains and I asked him then if they couldn't get to the bottom of these pains, but he was never the one to go to the doctors so I guessed he was OK.
"We always travelled everywhere together and had meals together whilst in theatre or TV studios etc, and we never ever tired of each other's company.
"From time to time we went to football (Rotherham) together and part of the event which Barry always loved was the pies and peas or the fish and chips! And obviously the footie especially if the Millers won!"
When he learnt that his brother was gravely ill, Barry was instantly by his brother's side.
He explained: "I couldn't believe it so I called round straight away to see him and that's when he told me that they were going to give him radio therapy. And now the rest is history!
"We were so close, as close as any siblings could be and we had so very many happy times and memories together to look back on.
"Whilst on a break from filming we laughed a lot remembering the good times and all the people we've met over so many years in pantomimes, theatres, tours, summer seasons and filming in television.
"I only wish he hadn't been taken so young as in today's terms 73 isn't old and anyway you're only as old as you feel inside and Baz was still in his twenties".

Credit: PA Images
Paul ended his tribute saying: "God bless to my lovely brother and my very best friend of so many years.
"He will be sorely missed and I am in a daze! And thank you to everybody for all your lovely messages. From Me To You Bro! Love you! Paul."
WATCH! The Chuckle Brothers make an appearance on Benidorm: