Robbie Williams Gushes About His Children In Suave James Bond Style Shoot!
He may have been a bad boy in the 90s, but now Robbie Williams is a doting dad and the face of a posh coffee brand...how the tables have turned!
Is there anything better than a man in a suit?
Well, what about Robbie Williams in a suit, gushing about how head-over-heels in love he is with his wife and kids?
Be still our beating hearts!
Swoon-worthy new pictures of the Take That star have emerged from a recent James Bond-themed photoshoot...and it's safe to say he looks great.
Robbie is the new face of coffee brand Cafe Royal, which means he had to get decked up for a TV advert to be aired in Australia.
At the same time, he answered some questions about his children, and his answers are adorable.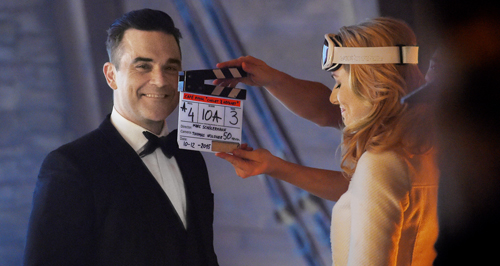 The 42-year-old said: "I get a cuddle from my kids, and I love you papa Teddy says, that makes my life, every time she says it every time she does something funny, my kids make my life, my kids make me happy." Awwww.
Robbie also admitted he has found a *slightly cringe* new way to keep his kids entertained. He said: "You do have to keep them occupied, mind you I've captured my children and both of them have to listen to my new album all the time."
In fact, Robbie loves being a dad so much, he's encouraging his fans to "go out and breed". Errr steady on there Robbie!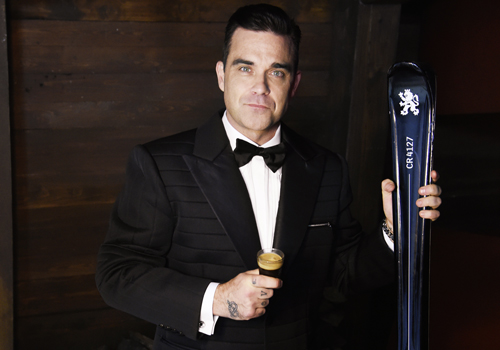 Robbie and his wife Ayda have two little ones, three-year-old Theodora and 20-month-old Charlton. The couple, who met on a blind date and hit it off straight away, got married in Beverley Hills in 2010.
Poor Ayda does have to put up with some of Robbie's cheeky-chippy antics though. Have you seen him wake her up with an air horn? You can watch the hilarious video here.
What do you think of Robbie's sexy new photoshoot?