Simon Thomas still feels 'brutal loneliness' eight months after wife's death
12 July 2018, 12:30 | Updated: 1 April 2019, 08:11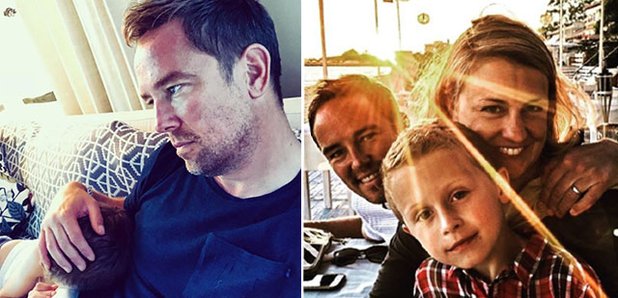 Former Sky Sports presenter Simon Thomas has opened up about the "brutal loneliness" he feels after the tragic passing of his wife Gemma eight months ago.
The bereaved father-of-one explained to Lorraine that even the most mundane things in life can trigger heartache and tears.
Simon, 45, was left widowed after Gemma, 40, lost her short battle with leukaemia just three days after being diagnosed. She is survived by her husband and their eight-year-old son, Ethan.
Simon opened up about her short diagnosis, revealing that son Ethan went to bed just like every other night, but the next morning his mum was no longer there.
He told Lorraine: "It struck me that as she left the house the Monday night, Ethan's asleep in bed, thinking he's going to see mummy in the morning. She never walked back into our house ever again."
And Simon, who quit his duties with Sky Sports in order to focus on Ethan's wellbeing, admits that the loneliness is still tough to bear.
"You have a lot of time on your own with your thoughts," he said. "You look to the sofa where all those years we sat there doing the mundane things...and she's not there anymore, and it hurts.
"It's a brutal jump from that to very much emptiness. When Ethan's gone to bed...the house is quiet".
In a positive spin on a tragic situation, Simon revealed that his relationship with his son is better than it ever has been.
He explained: "I was just trying to find, somehow, in the most hopeless of situations - how on earth do you find hope again? How do you find a reason to live again?
"My relationship with Ethan is not second best, it's better and deeper and more loving than it's ever been."
Elaborating more on Ethan's wellbeing, Simon told Lorraine: "He's doing good...he surprises me every day with how he's dealing with it.
"When a kid goes through this, and you're the only one left - in terms of immediate family he's only got me - and a child wants to protect you and they don't want to necessarily tell you everything that's going on in their head.
"He knows that i'll worry and maybe I'll cry...I've always been very open in my emotions - the only thing I will hold back from him is anger, because I don't think he needs to see that."