Simon Thomas stops wearing his wife's wedding ring five months after her sudden death
9 May 2018, 11:59 | Updated: 1 April 2019, 08:11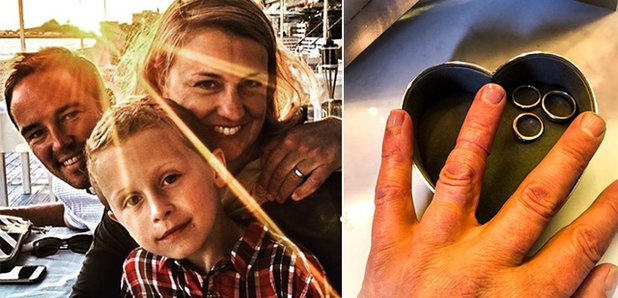 He posted an emotional tribute to his late wife on his Instagram page and explained why he was taking off his jewellery.
The former Blue Peter presenter took to Instagram to pay tribute to Gemma, who sadly passed away in December at the age of 40 - just three days after being diagnosed with acute myeloid leukaemia.
She left behind Simon, who she married in 2005, and their 8-year-old son Ethan.
Simon had been wearing Gemma's ring further up his wedding finger as he struggled to come to terms with her sudden passing, but today explained he had decided to take them off.
In an emotional Instagram post, he explained why he was now going to keep their wedding rings and Gemma's engagement ring in a heart-shaped box to give to Ethan when he gets married when he's older.
In a heart-breaking caption, he wrote: "With it being five months now and the symbolism of what happened yesterday [quitting Sky Sports] it feels the right time to do this - something I never expected or wanted to ever do.
"Her rings will now wait for the day Ethan hopefully gets to enjoy his day and if they're half the person his mother was he'll have done just right.
"Mine will forever remain the physical symbol of what I had and lost."
The presenter announced he was leaving his job at Sky Sports after 12 years, in order to focus on caring for his son.
He revealed in his blog: "I remember Ethan coming up to me in the lounge and through his tears he said these words: 'Daddy, you know every weekend you go away and do the football and I spend the weekend with mummy? What do I do now?'
"And they have stuck with me ever since."
Simon has since revealed that his late wife went to the doctors three times before her death, but was told to go home and rest on each occasion.
Simon appeared on This Morning in February to retell the moment he found out that his wife had passed away. In an emotional interview, he explained: "I think I woke up every one [in the hospital] as I screamed. I screamed to God saying: 'Why have you left my son without his mum?'
"I got home [afterwards] and grabbed him and looked deep into his brown eyes and said: 'They couldn't make mummy better'.
"You can't dress it up. I said: 'Mummy's died'.
"He collapsed on the floor and I collapsed there with him...
"He's been dealt a tough break in life at the age of eight, he's lost his mum already."
WATCH! Simon Thomas opens up about telling his son that Gemma had died: