Hollyoaks' Stephanie Davis reveals new tattoo ahead of soap return
8 August 2018, 15:08 | Updated: 8 August 2018, 15:40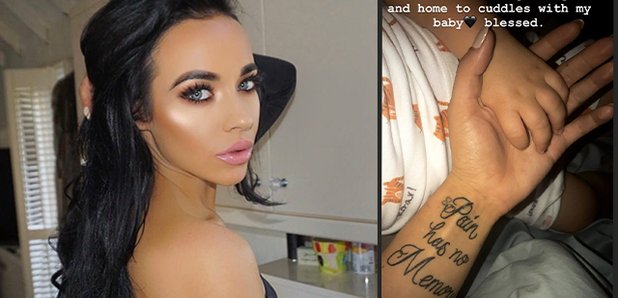 Stephanie Davis, 25, has unveiled a large new tattoo on her wrist to commemorate overcoming her destructive relationship to Jeremy McConnell.
Stephanie Davis has shown off a new tattoo she got to commemorate overcome her drink, drug and relationship demons.
The giant inking on the 25-year-old's wrist reads "pain has no memory", and is thought to be a permanent reminder of the battles the troubled actress has overcome in recent months.
The tattoo, which is a handwritten quote in a deep, shiny black, colour, is definitely hard to miss.
In the last year, the Hollyoaks star has come clean about her alcohol addiction, and found the strength to leave her violent ex, reality star Jeremy McConnell.
Sharing her new tattoo with her fans, Stephanie revealed she felt 'blessed' after a promising meeting and an evening in with her son, Caben-Albi.

Credit: Instagram - @stephaniedavis88
Earlier this year, the troubled actress revealed that she sought help from Alcoholics Anonymous after she turned to booze to help her through a difficult break up with Beauty School Cop Outs' Jeremy McConnell.
The pair met whilst appearing on the seventeenth series of Celebrity Big Brother in 2015, but after a a short relationship that saw the conception of their son Caben-Albi, now 18months, McConnell was charged with assaulting Stephanie.

Credit: PA Images
Putting her dramas behind her, Stephanie has been rehired by Hollyoaks after her contract was terminated three years ago when she arrived on set in an 'unfit for work' state.
The actress will return as Sinead O'Connor later this year.
WATCH! Jamie Lomas' biggest Hollyoaks moments: