Teenage James Corden Has Us In Fits In This Old School Video Interview With Meatloaf
James Corden interviews Meat Loaf in hilarious 1995 clip
00:31
We're used to him making us giggle, but this retro footage of a young JC doing his thing, might be the best thing we've EVER SEEN.
Everything Corden touches seems to turn to comedy gold.
The 38-year-old first hit the mainstream playing his loveable but daft character Smithy in the hit TV sitcom 'Gavin and Stacey', but since then it is fair to say that his career has sky rocketed.
He's well and truly "broken America" as the chat show host of the TV programme 'The Late Late Show', where he's introduced the world to interviews on the go in 'Carpool Karaoke' and hilarious lip syncing in 'Rap Battles' with various celebrity guests.
However, it seems that in actual fact James Corden's epic showbiz career began even further back!
To celebrate the star's recent birthday, he's shared some eye-wateringly funny footage of an interview he did back in the day with the musician Meatloaf.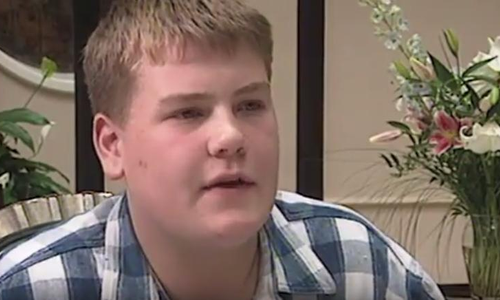 We watch the young teenage Corden nervously question the famous rockstar in this endearing clip of the session...and our love for him grows even more!
It looks like his star was born long before we knew it!