Tom Daley and Dustin Lance Black welcome baby son with adorable pictures
1 July 2018, 08:47 | Updated: 1 July 2018, 12:38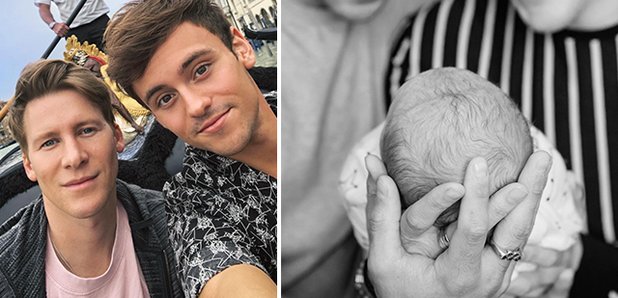 The happy couple have announced that they've called their newborn Robert Ray Black-Daley, in memory of Tom's late father.
Olympic diver Tom Daley, 24, and husband, film producer Dustin Lance Black, 44, have welcomed their baby son into the world.
The happy couple, who married last year on 6th May, announced that their tot, Robert Ray Black-Daley - or Robbie for short - had been born on the 27th June, and shared two sweet pictures with their fans.
Posting a black and white snap of the newborn's toes, Tom wrote: "Welcome to the world our precious little Robbie Ray Black-Daley. The most magical moment of my life. The amount of love and joy you have brought into our life is immeasurable. Our precious son."
Husband Dustin posted a shot of the couple cradling Robbie's head, and wrote: "Welcome to the world little Robbie Ray. Thank you for bringing so much love and light with you. And thank you to those who helped turn our dream of having a family into this wonderful reality."
Tom and Dustin have chosen to name their newborn 'Robert' in memory of Tom's father, who passed away from a brain tumour in 2011.
Little Robbie was born in the US via surrogate, and Tom revealed to The Times that both he and Dustin had provided sperm to fertilise the donor eggs, but they did not wish to know which one of them was the biological father to their son.
Tom revealed: "We found an egg donor and we are the sperm donors, we have fertilised half the eggs each.
"We put in a boy embryo and a girl embryo and we don't know whose is whose. The next time we will do it the other way round."
WATCH! Sexuality expert claims babies need to 'give consent' before changing their nappy: