Tom Daley and Dustin Lance Black relationship: How they met, getting engaged and having a baby
1 July 2018, 12:37 | Updated: 1 July 2018, 12:45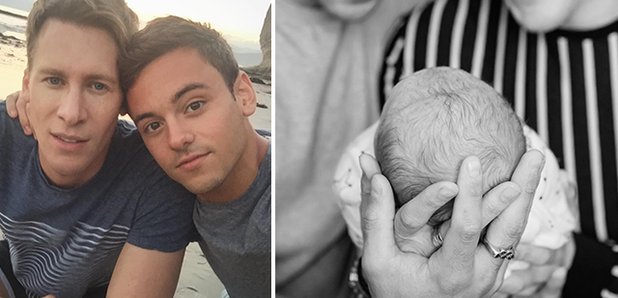 How did Tom Daley and Dustin Lance Black meet, and when did they get married? We have all your questions answered as the new parents reveal they've named their newborn son Robert Ray Black-Daley.
Tom Daley became a national treasure after winning a World Championship at the tender age of 15 in high diving. The professional athlete, who who specialises in the 10-metre platform event, is now a double World Champion and Olympic Bronze medallist in his sport.
It was announced in 2013 that Tom had begun dating Dustin Lance Black, who is twenty years his senior. Dustin is an American screenwriter, director, film and television producer, most famed for winning the Academy Award for Best Original Screenplay in 2008 biographical film 'Milk'.
The couple recently welcomed their first son, Robert Ray Black-Daley, after tying the knot in May last year.
Here's all we know about their relationship...

How did Tom Daley and Dustin Lance Black meet?
The pair struck up a romantic relationship in 2013, after meeting at a party.
In Out's Love Issue, the couple revealed the details of their encounter, with Tom revealing: "I was in Los Angeles for the Nickelodeon Kids' Choice Awards, and a friend organized a dinner, and got there at least 45 minutes late. I'm not going to lie: I had no clue who Dustin Lance Black was, or what he did. I just remember thinking, Oh wow, who's that? As the dinner progressed, I kept on looking at him, and he kept catching me, which was awkward at times, because I would always look away."
Meanwhile Dustin also spilled the beans, saying: "...My friend texted me from across the table, and his text said, 'He's Google-searching you.' I do that occasionally at dinner tables. But that, in combination with the look, made me think, Something's up here, but that's too good to be true... Tom had just won an award at some Nickelodeon TV show, and they were planning to celebrate, and I said, 'I've got to go home; I have a script to write.' And Tom took my phone, and he typed his number in with a winky face."
How did Tom Daley and Dustin Lance Black announce their engagement?
On 2nd October 2015, an excited Tom posted a cute picture on Instagram of two rings atop an announcement in the newspaper, which read: "The engagement is announced between Tom, son of Robert and Debra Daley of Plymouth, and Lance, son of Jeff Bisch of Philadelphia and Anne Bisch of Lake Providence."
He captioned the post with the hashtags: #HeSaidYES #ISaidYes
When did Tom Daley and Dustin Lance Black marry?
Tom and Dustin tied the knot in 6th May 2017 at Bovey Castle in Devon. Both wore Burberry suits for the occasion and shared sweet pictures of their big day on their social media pages.
Tom revealed that they shared their special day "with 120 of our closest friends and family, from Texarkana to Plymouth" and hailed it "the most special weekend of our lives!"
According to sources, the day was full of 'dancing and festivity' and ended with a spectacular fireworks display at 10pm.
A source revealed: "Tom and Lance organised the wedding themselves and it had their personalities stamped on every detail."
Do Tom Daley and Dustin Lance Black have children?
On 27th June, Tom and Dustin welcomed baby Robbie Ray into the world.
Little Robbie was born in the US via surrogate, and Tom revealed to The Times that both he and Dustin had provided sperm to fertilise the donor eggs, but they did not wish to know which one of them was the biological father to their son.
Tom revealed: "We found an egg donor and we are the sperm donors, we have fertilised half the eggs each.
"We put in a boy embryo and a girl embryo and we don't know whose is whose. The next time we will do it the other way round."
What is the significance of Robbie Ray's name?
The couple chose to name their first born Robert, in memory of Tom's father, who passed away from a returning brain tumour in 2011.
Tom's father became a regular face at every one of his diving competitions, as he followed his son around the world to support him, despite being ill with cancer.
Tom has previously admitted that he wants to be as good a dad as his father was to him. Paying tribute to him on Father's Day, Tom tweeted: "If I could be half the dad that my Dad was to me then that would be my best achievement! I love you!"