Tom Fletcher confuses son Max with plastic baby in hilariously honest photo
21 September 2018, 07:36 | Updated: 19 October 2018, 20:18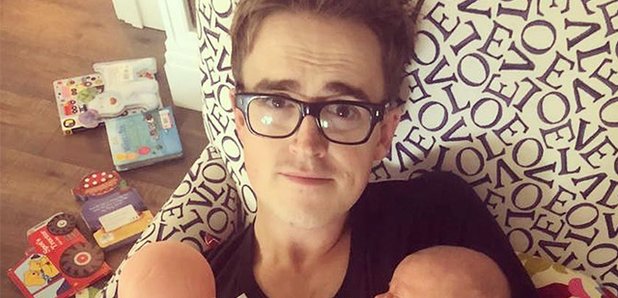 The father-of-three blamed the 'confusion' on extreme tiredness.
McFly star Tom Fletcher, 33, gave fans a chuckle with his most recent Instagram post.
Posing with his newborn son Max and a plastic doll on his chest, he captioned the image: "I'm so tired I couldn't tell the difference. Thought I'd play it safe. I now have 2 babies. Father of 4?!"
Fans were quick to comment on the snap, with one writing: "It's always best to be safe than sorry!", whilst another added: "This picture sums me up right now!"
A third quipped: "My youngest is 4, and I'm still so sleep deprived that I sat here for a good minute and a half wondering why you'd have a chair with "VOLE" written on it!"
Tom, who has turned his creative skills to writing children's books and even stage shows, shared the struggles of a working parent in another recent photo.
In the lengthy caption, the star admitted that: "My job isn't really a 'job' and I'm totally the luckiest dude alive to be able to call what I do for fun a career", and also revealed: "For every 1 song someone else writes, I'll write 10. When an author writes 1000 words a day I'll write 5000, they work until 10pm, I'll work until 5am...it's all about perseverance and persistence."
Married to author Giovanna Fletcher, Tom and his wife welcomed their third son, Max, in August this year. They also share Buzz, 4, and Buddy, 2.
The showbiz couple married in 2012 after becoming childhood sweethearts back in their school days.
WATCH! Sam and Billie want to be as honest as possible about motherhood on TOWIE: