James Corden's Ultimate List Of Carpool Karaokes: Incoming Britney Spears!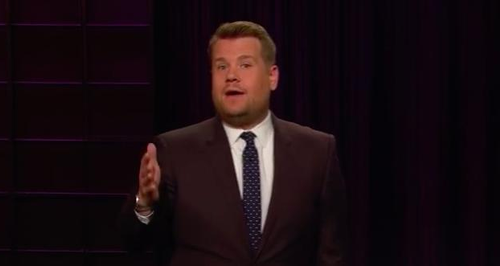 The hit talk-show is set to invade a screen near you. In the meantime, catch up on all your favourite ever Carpool Karaokes.
Update 11 August 2016 - INCOMING BRITNEY SPEARS:
She's got a brand new album coming out very soon and we could NOT be more excited!
Now the original princess of pop is back is teasing us with something we've always dreamed of but not dared to hope for... her very own Carpool Karaoke with James Corden!!!
The 37-year-old singer posted a snap with the 'Late Late Show' host on her Instagram account, with the date - August 25th, written in the caption.
We're counting down already!
Kanye West Carpool Karaoke Supposedly In The Works!
In a recent interview James Corden spilled the beans on how Kanye West is up for appearing on the popular segment from the Late Late Show, Carpool Karaoke.
Apparently, the star has been booked twice to appear but has cancelled on both occasions!
To apologise for letting James down, he sent three dozen white roses bizarrely arranged in the shape of a cube.
Very edgy! We couldn't think of a more Kanye apology if we tried.
Carpool Karaoke Comes To The UK!
James Corden's 'Late Late Show', home to YouTube phenomenon Carpool Karaoke, will be coming UK tellies for the first time!
HURRAH!
It's reported the popular late-night US chat show, that thrusted James to stardom across the pond, will be broadcast on Sky1 through its on-demand service one day after its airing in the US.
What's more, the Sky1 will also air the Carpool Karaoke Primetime Special on 19 July!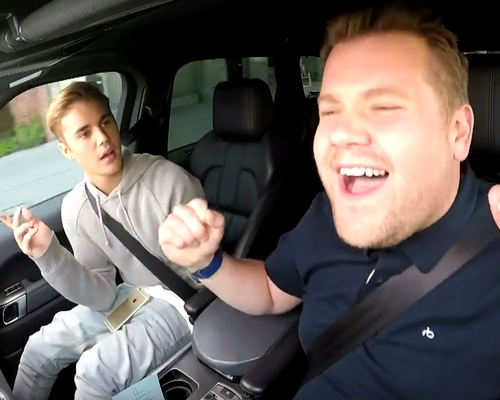 The news comes after it was revealed that James Corden's Carpool Karaoke could be getting it's very own spin-off after the viral videos collectively reached 400 million views.
It's claimed Corden has teamed up with executive producer Ben Winston to give the segment it's very own platform and are expected to be embroiled in a bidding war from networks keen to snap up the series.
According to reports by Hollywodlife, Ben is holding presentations for their proposed plans which are expected to be rounded up by the end of this week and a host is to be confirmed imminently.
Now it's time for the bad news....
Corden might NOT be hosting the spin-off.
*CRIES*
We know, it sucks, but there had to be a catch somewhere right?
James is thought to be heavily involved in production alongside Ben but will be ditching hosting duties for the odd cameo instead.
In the meantime, gets your James Corden fix by reliving his best bits on Carpool Karaoke.
Michelle Obama and James Corden Carpool Karaoke:
FINALLY IT'S HERE.
Ever since the announcement that The First Lady of America and The Late Late Show host were going to be joining forces for one of his Carpool Karaoke's we haven't been able to sit still.
Now the video has finally dropped...and it's even better than we'd hoped!
It opens with poor Corden getting interrogated by an overly zealous security guard as he tries to enter The White House for a tour. The 37-year-old funny man is sweating buckets...and we don't blame him!
LUCKILY Michelle saves the day as she jumps in the front seat.
She points out the Oval office and the rose garden, before requesting a few tunes and the incredible Stevie Wonder blasts through the sound system.
"Did you know he's my favourite?" she reveals. "Mine too!" replies an enthusiastic James, before the pair breaking out some incredibly funny moves.
Michelle confesses that she hasn't sat in the front seat of the car for seven and a half years, except for when she was helping teach her daughter to learn to drive.
After confessing that he'd love to nick a few things from The White House, before getting a very stern reprimanding from The First Lady.
Next the cheeky twosome discuss the important things in life - aka. room service and grilled cheese sandwiches. (We're right with you on this one!)
Then Queen Bey's 'Single Ladies' blasts through the speakers and the pair get dancing again.
They also have a chat about Snapchat. The brilliant British comedian asks why Michelle felt the need to join the popular Social Media site that's popular with teens and she tells him all about her amazing initiative 'Let Girls Learn', which aims to bring education to girls the world over.
It doesn't take long for the party to really kick off, after Missy Elliot also jumps in the back seat and Corden and Missy can't resist rapping her hit tune 'Get Your Freak On'.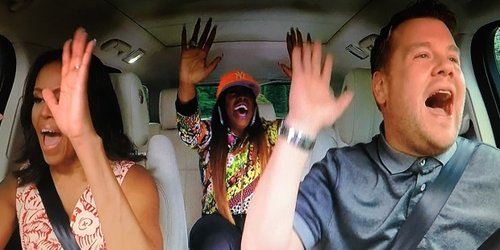 We're are CRYING with laughter!
Want to recreate the magic at home?
Here's your Michelle and James Carpool Karaoke soundtrack:
Stevie Wonder - Singed, Sealed, Delivered
Beyonce - Single Ladies
Missy Elliot - This Is For My Girls
Missy Elliot - Get Your Freak On
Aliens, Eggs and Big Wigs... Corden Takes SIA For a Spin.
The duo serenaded each other with joint versions of tunes including 'Chandelier', 'Elastic Heart' and Rihanna's 'Diamonds' that Sia wrote.
The songwriter, who famously covers her face in public also explains her decisions around this choice: "I don't wear this unless there's cameras around," she laughed. "I only wear this just to try to maintain a modicum of privacy."
When James Met Elton John
The pair are seen singing along to Elton's hit, 'Don't The Sun Go Down On Me' plus they more of Sir Eltons hits! Expect big extravagent costumes and plenty of laughs.
New Year Resolution Duet With Meghan Trainor
"We're not about to change, 'bout to change!"
It turns out that it's not just us that struggle to stick to our new year's resolution. James Corden and Megan Trainor struggle so much, they've even sung a duet about it.
The unlikely pair dressed in matching purple outfits and sang a parody of Megan's song, All About That Bass, except this time it's called All About That Change.
Check it out! Who do you think wears the hair-do better?
One Direction's carpool karaoke is FINALLY here!
Has James Corden replaced Zayn Malik? Is Liam Payne's bottom really on fire?! Do the boys sing 'What Makes You Beautiful', 'Story Of My Life' or 'Best Song Ever' more harmoniously? Can James Corden actually rap quite well??!
Why don't the boys have a music video with a synchronised dance routine wearing matching denim shirts? What will they do with their time off from touring? Who do the lads want to 'Sleep, Marry or Cruz' with? (Mini spoiler: Niall maaaay have a bit of a thing for Justin Bieber's ex-girlfriend Selena Gomez.
When he did carpool karaoke with the LEGENDARY Stevie Wonder:
The heart-warming segment, which came as part of Corden's infamous 'Carpool Karaoke', sees the blind singer crooning his hit 'I Just Called To Say I Love You' down the phone, and it's not long before the water works began (it wasn't from Corden's wife either!)
The time he broke up with Julianne Moore using only Taylor Swift lyrics...
It's true that sometimes it feels like Taylor Swift has written the soundtrack to your life: Romeo and Juliet was quite clearly about that boyfriend you had that your mum didn't like. I Knew You Were Trouble was definitely about that girl you fancied but you knew you shouldn't, and 22 was totally describing your youth.
As ever, James Corden has taken this one step further and acted out a soap opera using only Taylor's lyrics! With the help of Julianne Moore (Still Alice ) and John Stamos (Full House) The Late Late Show With James Corden has become the scene of a very dramatic breakup! It will have you in stitches!
The time he did 'Grease' the musical:
Have a giggle at the reactions of the unsuspecting driver's when they come across the 36-year-old's hilarious musical-theatre flash dance!

When he re-enacted all of Tom Hanks' movies in 8 minutes...
Our national treasure performed a medley of acting roles with his guest Tom Hanks - covering every Hanks movie in under 8 minutes!
From 'Saving Private Ryan' to 'Sleepless In Seattle', from 'Cast Away' to 'Captain Phillips', the two clearly had fun filming this little sketch.
James Corden and Jon Cryer Recreated The Duckie Dance:
Check out Philip "Duckie" Dale miming to Otis Redding's classic 'Try A Little Tenderness' in 'Pretty in Pink' in that classic record store scene:
…and Cordon and the 'Two and a Half Men' star's AMAZING perfectly choreographed remake (we apologise in advance for the hip thrusting!)
When he duetted with Olaf from 'Frozen' (naturally).
The two take to the stage to duet a re-worked version of 'Do You Want to Build a Snowman?'.
We love James and we love Olaf! It's the perfect combination.
And last, but certainly not least, the time One Direction were 'Corden's Angels':
The 36-year-old is close friends with the members of one of the world' biggest boy bands, so it was only a matter of time before Harry, Niall, Liam and Louis were invited onto his brand new program: "James is one of our best mates" Liam said "and we're so proud of the massive success his show is having in America".
"Today is the culmination of a life's dream" claims 21-year-old heartthrob Harry Styles… and from the looks of solemn intent on the boys faces… we believe him!
Watch in fear at the lads take on the terrifyingly professional opposing team - the Ball Busters with Coach Corden cheering them along all the way.
And with that, we hope your day has improved. Ours certainly has!