These Celebrity Baby Names Have The Most Beautiful Meanings
12 March 2018, 17:11 | Updated: 12 March 2018, 17:28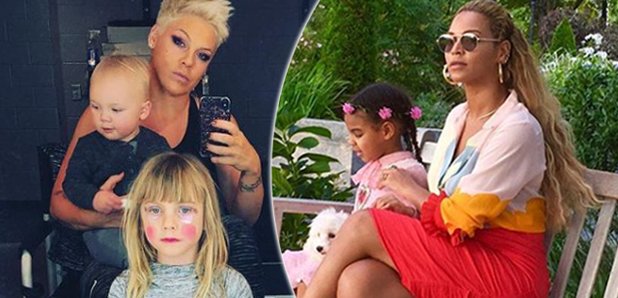 It turns out some of the most bizarre choices of names actually have the sweetest meanings!
The famous faces in our world aren't adverse to giving their youngsters unusual monikers, but have you ever wondered WHY they choose what they choose?
Harper Seven Beckham
David and Victoria's only daughter got her first name from Victoria's love of the novel To Kill A Mockingbird - which was written by Harper Lee. And David famously wore a number 7 shirt for Manchester United and England during his footballing days. He's also explained that: "Seven symbolises spiritual perfection, the seven wonders of the world, the seven colours of the rainbow and in many cultures it's a lucky number."
Willow Sage Hart
P!nk's daughter has possibly the most eco-friendly name on the planet - and there's reason behind it. The pop star revealed that she grew up near a Willow tree and explained: "Nothing can break it - no wind, no elements. It can bend and withstand anything. I love that sentiment and I want that for her."
River Rocket Oliver
Jamie Oliver's fifth child was given the name River Rocket for one very specific reason; Jamie was first discovered by the BBC when working as a Sous Chef in the acclaimed River Cafe in Fulham back in 1997. The famed TV chef is also father to Poppy Honey, Daisy Boo, Petal Blossom and Buddy Bear with wife Jools.
Apple Martin
Gwyneth Paltrow revealed that her ex Chris Martin had suggested the name and she loved how "clean" and "wholesome" it sounded. It has nothing to do with being the "apple of her eye" or her fondness of iPhone gadgets!
Blue Ivy Carter
Although Beyonce and Jay-Z have never officially confirmed the reason behind the name, blue is known to be Jay-Z's favourite colour and Ivy reportedly refers to the roman numerals IV - number 4. This number is significant to the power couple as they married on April 4th, they both have birthdays on the 4th of the month, and Queen B released an album called '4'.
North West
There's a really sweet meaning behind the moniker of Kim and Kanye's eldest child. A source explained: "North is the most high. There is nothing higher than North. And, when it comes to the stars, the sun rises in the East and sets in the West." They added that the couple: "look at her as being their highest point together."
WATCH! Harper Beckham Shows Off Her Football Skills: