You HAVE To Try Victoria Beckham's Unique Trick For Always Staying Positive!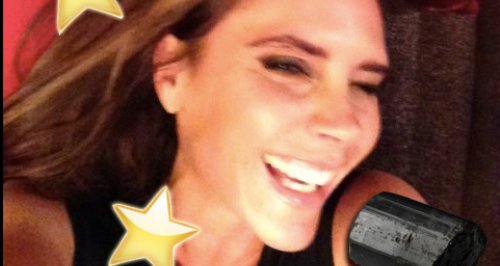 She's a mother to three four beautiful children, she's enjoyed a thrilling pop career and she's currently queen of vast fashion empire…but even VB sometimes need a little helping hand.
Mrs Becks has come a long way from her days of breaking out the dance moves and hitting those high notes as one fifth of the biggest girl group to ever rock the planet; the Spice Girls.
Nowadays, you're more likely to see the former Posh Spice working late at the office on her hands and knees, pinning models into her latest designs, or pouring over sketches of the next season's biggest 'IT' dress.
When you're as busy as the Beckham momager, we imagine it must be hard to keep your feet on the ground sometimes.
However, the raven-haired beauty has her own unique and unusual tips for combatting the haters.
The 42-year-old revealed to 'Vogue' magazine that she's actually "a real positive thinker."
In the interview she confessed that she believes that "the glass is always half full" and is in fact a deeply spiritual person.
Victoria uses the stones backstage at her show and believes she can harness positive energy from them.
For those interested in copying this inspirational woman's style, the crystal she uses is called black tourmaline.