VIDEO: Robbie Williams Pranks Wife Ayda With A Fog Horn Wake Up Call!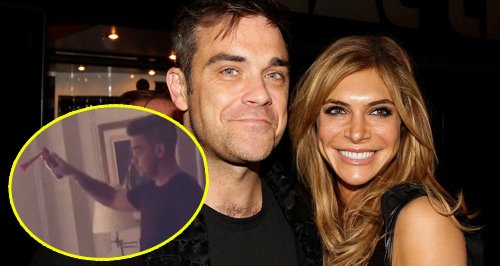 Robbie Williams decided a traditional alarm clock was just too boring for his wife Ayda. Watch his naughty morning prank here...
Poor Ayda Field Williams!
Robbie William's 37-year-old wife was just enjoying an early morning snooze when her prankster husband decided to point a fog horn in her face. Not. Fun.
Okay, so we did have a little laugh at Ayda's expense when we watched her Instagram video of the 'incident'...but we'd HATE to be woken up like that!
The video kicks off with Robbie standing in the couple's bedroom saying: "Morning everybody. It's quarter to seven, and I think it's time mummy woke up."

Before you know it Ayda is jumping three foot in the air and speedily taking off her eye mask to find out what on earth is going on!
Fortunately, the actress saw the funny side, admitting that her six-year-old has gained some prank-inspiration from the video. Uh oh, could this mean more tricks on the way in the Williams household?
On a scale of one to 10, how mad would you be if your partner did this to you?!