Bonkers Or Beautiful! The Meanings Behind 2017s Celebrity Baby Names
30 March 2017, 13:23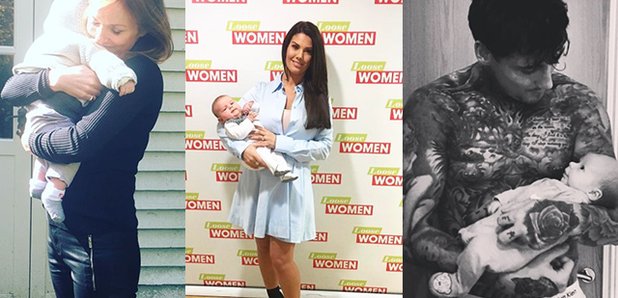 It's only been 2017 for a few months and already lots of celebs have become parents!
One of the most celeb things you can do is give your child a pretty out there name.
The trend for 'unique' baby names goes way back now and the most famous of the bunch (excuse the pun) has to be Apple, Gwyneth Paltrow and Chris Martin's daughter as well as Michael Jackson's son Blanket.
They're not to everyone's taste, but one thing is certain and that's that they are pretty curious choices.
And celeb's are still pushing the creative boat out when it comes to naming their little ones.
So far in 2017 we've had quite a few new celebrity parents, but what are the reasons behind some of the more wacky namesakes?
Montague George Hector Horner
Geri Horner and her hubby Christian Horner welcomed their first child together into the world on January 21st 2017.
Montague is typically a French name, but it's his middle name that holds lots of meaning for his mum.
Geri named him after her late and dear friend George Michael.
A source told the Daily Mirror "Geri wanted George to be a part of Monty's life, so she felt it only fitting that her newborn have a middle name after the star".
Caben-Albi George Davis
Stephanie Davis became a mum for the first time on January 13th 2017 to her son, Caben-Albi George.
After the birth there was much drama around who the father was and it did in fact turn out to be Jeremy McConnell.
But whats the meaning behind his name?
Steph told OK! magazine "It's not actually a name I'd heard before, but it popped into my mind and stuck there.
"I wanted to give him an unusual name, I also wanted him to be called Albi after my grandad."
Very sweet!
Finley Jaiden Vardy
Leicester City footballer Jamie Vardy and his wife Rebekah welcomed their son on January 18th 2017.
Jamie told OK! magazine after he arrived that Rebekah chose Finley's middle name to be Jaiden so that he would share initials with his footballing dad.
Eissa Al Mana
Janet Jackson had a bouncing baby boy on January 3rd 201 with her husband, Wissam Al Mana.
They gave him a very religious name which is actually the Arabic word for Jesus pronounced eye-sa.
Hal Auden Cumberbatch
Benedict Cumberbatch and Sophie Hunter recently had a son on March 3rd 2017.
He has a literary name as Hal was used by William Shakespeare in one of his plays as a nickname for Henry V, and Auden is the surname of famous English poet W.H Auden.