Sassy Helen Mirren Defends Her Body In Throwback Parkinson Interview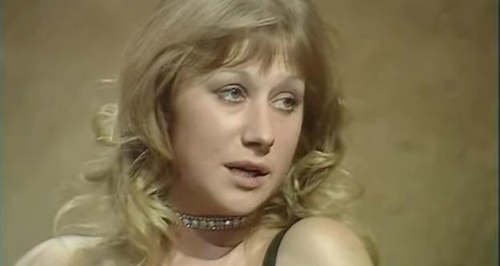 Sometimes even Hollywood's most esteemed actors get wound up and end up having to defend themselves...
Sometimes even Hollywood's most esteemed actors get wound up and end up having to defend themselves... even if that means embarrassing some cheeky journalists.
We've rounded up the times A-Listers who've had their feathers ruffled and went in for the kill.
Helen Mirren Proves That She's Always Been Feisty In This 1970s Parkinson Interview
The 71-year-old Oscar-winning actress is known for her sassy attitude and intelligent quips when it comes to interviews so it's no surprise really that she was showing her feisty side 40 years ago too.
During a rather sexist interview with chat show host Michael Parkinson from 1975, The Queen actress deflects a number of inappropriate questions about her body.
'Do you find that in fact, what could best be described as your equipment hinders you in the pursuit of being a successful actress?' asks Parkinson to the clearly bemused star.
'I'd like you to explain what you mean by my equipment?' she asks Parkie. 'You mean my fingers?'
Finally Parkinson clarifies that he means the star's 'figure.'
'Because serious actresses can't have big bosoms, is that what you mean?' Helen asks.
Oosh! The sass, Ms. Mirren.
Joanna Lumley Puts Susannah Reid In Her Place After Revealing Her Age.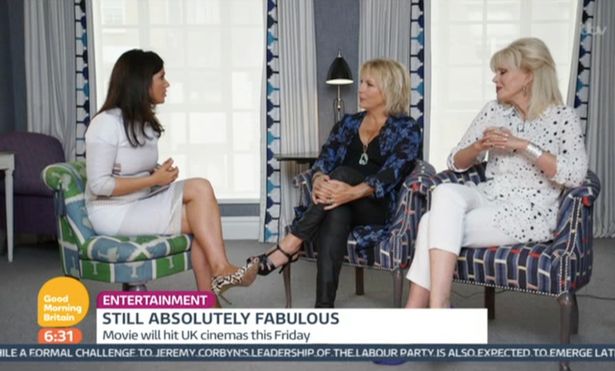 The Ab Fab star probably isn't the biggest fan of Susannah Reid right now, after the Good Morning Britain presenter made a point of announcing her age on live television.
Joanna had appeared alongside pal and co-star Jennifer Saunders to promote the film adaptation of the iconic sitcom, when the TV presenter commented on how great the pair looked.
"How do you still look so fabulous?" Susannah asked. "I mean Joanna, you're 70!"
Sniggering at the intended compliment, Joanna quipped: "I love the way you just lowered your voice to say that. Yes, I can still eat on my own."
OUCH!
Jennifer then jokingly chipped in: "We ship in a lot of products!"
The pair also dished on the film which features countless cameos from an array celebrities including the likes of Stella McCartney and catwalk queen Moss.
James Blunt Puts His Twitter Troll Who Questioned His Invite To Invictus Games.
If there's one thing James Blunt is known for outside of his music, it's his EPIC ability to put Twitter trolls in their place. The 'You're Beautiful' singer made an appearance at the Invictus Games in Orlando over the weekend, but it seems not everyone was happy with his performance.
Twitter user Laura from West London tweeted to say: "Who the f*** invited James Blunt to the Invictus Games? He better be out of Disney World before I get there."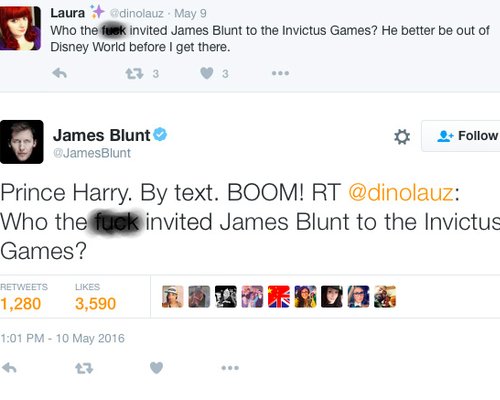 James then hit her with the comeback of all comebacks, by simply replying: "Prince Harry. By text. BOOM!
Hilarious! BOW DOWN TROLL!
Amy Schumer Slams Magazine For Labelling Her "PLUS-SIZED"
Amy Schumer hit out at Glamour magazine after the fashion bible labelled her as a plus-sized star in an apparent attempt to celebrate women with curves.
The star, who is actually only a UK size 10-12 (U.S 6-8), took to Twitter to hit out at the magazine, writing: "I think there's nothing wrong with being plus size. Beautiful healthy women.
"Plus size is considered size 16 in America. I go between a size 6 and an 8. @glamourmag put me in their plus size only issue without asking or letting me know and it doesn't feel right to me. Young girls seeing my body type thinking that is plus size? What are your thoughts? Mine are not cool glamour not glamourous."
Hey Twitter! I'd love your thoughts? pic.twitter.com/mcBelKWI2f

— Amy Schumer (@amyschumer) 5 April 2016
This isn't the first time Amy has hit out at a journalist, she previously lost her cool last year when film critic Lights Camera Jackson made crude joke about 'spending the night' with her.

Obviously, she wasn't having any of it and took to Twitter with this angry reply.
@LCJReviews @jondaly I get it. Cause I'm a whore? Glad I took a photo with you. Hi to your dad.— Amy Schumer (@amyschumer) January 18, 2016
Feeling embarrassed, the film critic later deleted the tweet and made grovelling apology.
@amyschumer I truly apologize. Thought you'd like the joke. I should leave the comedy to you! Thanks for the photo. Glad you won last night!— LightsCameraJackson (@LCJReviews) January 18, 2016
Luckily for him, Amy accepted and appeared to smooth things over. Phew!
@LCJReviews that's really okay honey. I just remember thinking you and your dad were sweet and it was a bummer to read that— Amy Schumer (@amyschumer) January 18, 2016
When Tom Hardy shuts down a reporter who asks about his sexuality...
When Cate Blanchett owned this camera man at the Oscars:
We think Cate's face says it all here. We mean seriously… what the heck?!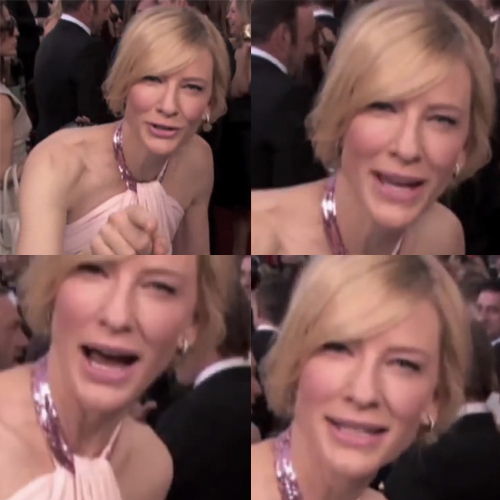 When Tay Tay was taking none of this correspondent's sexist nonsense…
Eugh. Please.
That totally amazing moment when Mila Kunis put down this reporter in Russian:
We mean she just couldn't deal with it...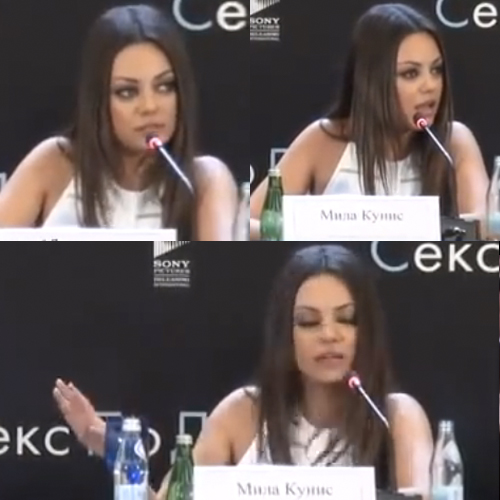 Watch the full interview… man she's sassy:
This time Emma Stone politely, but firmly, told it like it is:
(Go Emma)
When global superstar Rihanna had just had enough of people expecting her to be hunting for a man...
#killereyeroll
And of course the time designer Lauren Conrad shot down this outrageous question on live radio...