Kristen Bell is encouraging people to share their 'weight' online and it's really empowering
10 August 2018, 15:01 | Updated: 10 August 2018, 16:00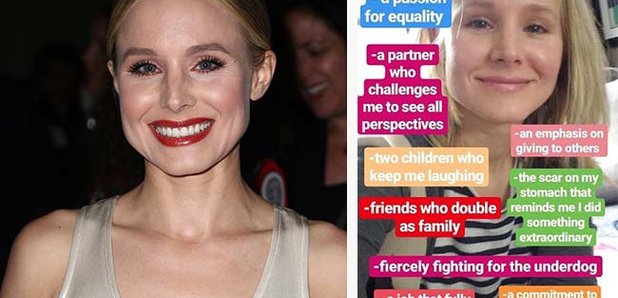 Kristen Bell, Emmy Rossum and Charli Howard bare all in candid Instagram posts that celebrate what people are REALLY about.
How much we weigh is a huge issue for some women, and a lot of men, too.
In a world where we're bombarded with images of the 'perfect' body on a daily basis, millions of people have become obsessed and depressed about their weight.
Actress Jameela Jamil has made it her mission to inspire women all over the world and counteract the toxic culture of body-shaming with a recent social media campaign called 'I Weigh'.
Taking the form of an Instagram account launched purely for the purpose of inspiring the sisterhood, Jamil's campaign equates weight with achievements and values.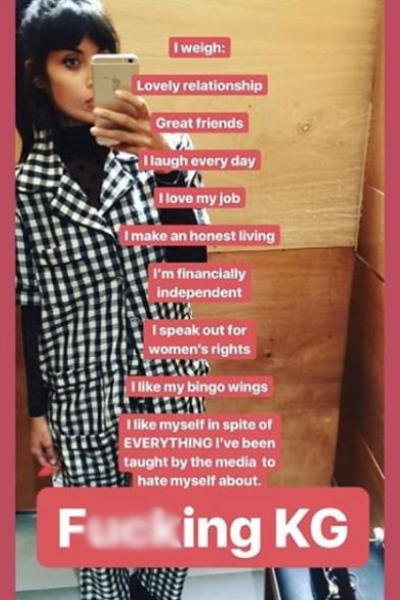 Jameela Jamil's original post
Her aim is to help women "feel valuable and see how amazing we are, and look beyond the flesh on our bones".
It has already attracted plenty of celebrity support, including candid new posts from Kristen Bell, Emmy Rossum and Charli Howard.
Jameela got the ball rolling, posting a selfie earlier this year with the caption: "I weigh: Lovely relationship. Great friends. I laugh every day. I love my job. I make an honest living. I'm financially independent. I speak out for women's rights. I like my bingo wings. I like myself in spite of EVERYTHING I've been taught by the media to hate myself about. F*****g KG."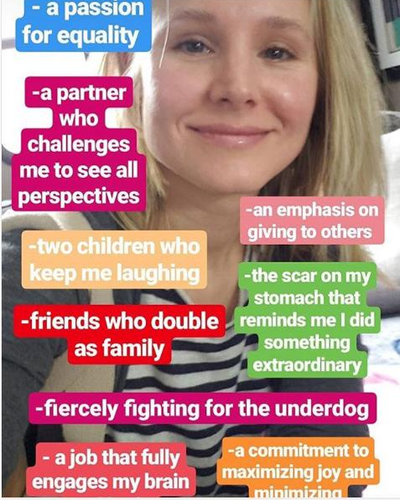 Kristen Bell's candid post
The Instagram account has had over 1,400 posts, from women all over the world keen to share their 'weight' and put an end to the oppressive body-shaming culture that pervades in many aspects of the media.
Kristen Bell, who stars alongside Jamil on hit show, The Good Place, posted an image of herself surrounded by phrases like "a passion for quality", "the scar on my stomach that reminds me I did something extraordinary", "fiercely fighting for the underdog" and "two children who keep me laughing".
Speaking to the Hollywood Reporter about Kristen, Jamil said recently: "She is an amazing advocate for women being realistic and being honest about their lives. I think she's someone who's kind of like an archetype of what the messaging could be within Hollywood."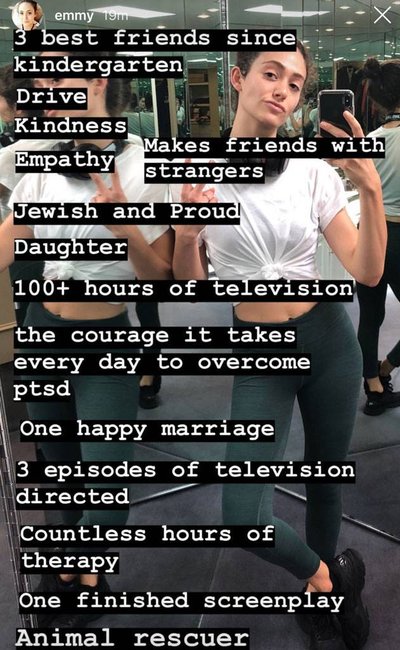 Emmy Rossum's I Weigh post
Actress Emmy Rossum's post is equally candid, featuring a selfie where she is sticking two fingers up defiantly.
She launched her contribution to the campaign by asking her followers if they'd ever used Google to look up a celebrity's weight and found themselves in the mire of "countless hours of compare and despair."
"During my life the scale has told me that I've gained and lost and gained and lost," she said in an Instagram Story post. "Somewhere in the range of 20 pounds. But that piece of metal doesn't really know."
Adding: "Here is what I ACTUALLY WEIGH."
In her post she included statements like "countless hours of therapy", "the courage it takes every day to overcome ptsd", "animal rescuer", "Jewish and proud" and "makes friends with strangers".
British model Charli Howard also posted a inspiringly honest series of statements with a stunning photo.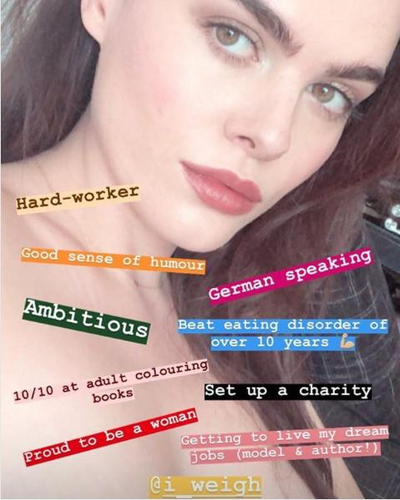 Charli Howard has been open about her battles with eating disorders
Among her many highlights were "set up a charity", "getting to live my dream jobs (model and author!)", "10/10 at adult colouring books", "German speaking" and "beat eating disorder of over 10 years".
Howard, 27, has been outspoken about her recovery from anorexia and bulimia - managing to work through the disorders and get to a stage where she is comfortable with her body.
After being rejected from her first agency for being over their required weight she wrote a now infamous Facebook post.
"I refuse to feel ashamed and upset on a daily basis for not meeting your ridiculous, unobtainable [sic] beauty standards, whilst you sit at a desk all day, shovelling cakes and biscuits down your throats and slagging me and my friends off about our appearance," she wrote in the post that was published in October 2015.
"The more you force us to lose weight and be small, the more designers have to make clothes to fit our sizes, and the more young girls are being made ill. It's no longer an image I choose to represent."