WATCH! Holly Willoughby Squeals After Teletubby Cheekily Pats Her Bum!
Holly Willoughby Squeals With Delight During Pancake Game with The Teletubbies [VIDEO].
00:21
They're supposed to be family friendly but the famed children's television characters got a little x-rated.
Tinky Winky, Dipsy, La La and Po are the family friendly faces that dominated our screens in the 90s, and the group of loveable Teletubbies made a much-welcomed comeback to screens this week.
Of course, it wasn't long before the characters were up to mischief, as Holly Willoughby soon found out during her appearance on 'The One Show'.
The 'This Morning' host was on set to promote her new game show but just as the credits began to roll she squealed with shock.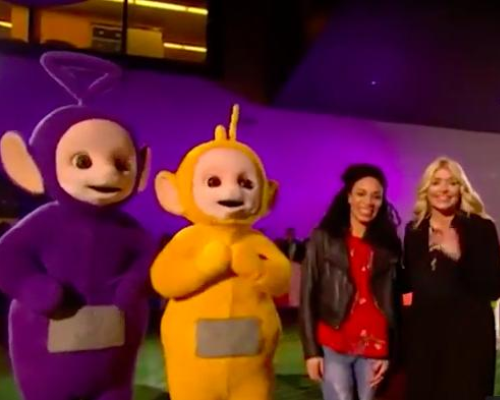 After taking part in a pancake-themed task the children's TV show's vacuum cleaner Noo Noo decided to play a game of his own with the blonde beauty.
As presenter Matt Baker said goodbye to viewers, the cheeky hoover crept up behind Holly and gave her a pat on the bottom!
The hoover quickly received a scolding from the presenter, while Holly squealed in what made for a hilarious moment.