Liam Drops A HUGE Hint That He Married Cheryl In Secret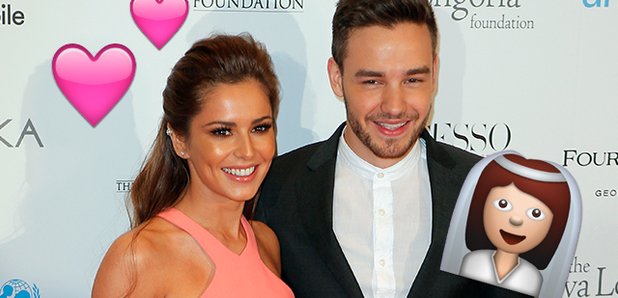 The 23-year-old singer appeared to let slip that he and the former Girls Aloud star have taken their relationship to the next level.
After their recent baby joy it seems that there have been more celebrations on the way for Cheryl and Liam Payne as the former One Direction hinted they are married!
The pair may have only just settled down to life as parents, but it seems as though they may have secretly tied the knot after Liam called Cheryl his "wife".
The 23-year-old singer appeared to let slip during a recent radio interview in the US.
Liam had been joking that he had come to LA just for his favourite burger chain, when he said: "I left my wife and child at home and I was straight out to In-N-Out Burger."
His words seem to coincide with an OK! Magazine report, published back in March, that claimed the couple had made plans to wed.
As Cheryl has been married twice before it was claimed she wanted a low-key affair if she were to tie the knot with Liam.
A source told the celebrity gossip mag: "Because this will be her third marriage, Cheryl doesn't want a circus."
"She'd rather have just close friends and family. She'd also love the baby to be sitting on their laps in the wedding photos."
But others have said that as it is Liam's set of nuptials he may "want to shout about their wedding from the rooftop".
Meanwhile, Liam has been talking about life as a father and spilled the beans on the couple's first nappy change, which didn't go quite as planned.
Recounting a funny anecdote at the hospital, he said: "I did all the first day's worth of nappy changes, because [Cheryl] was so tired, she slept more or less.
Liam then described how Cheryl woke up to Bear crying at 5am, saying that she wanted to change his nappy for the first time.
He said: "I was like go on babes, this was her first ever nappy change. So he poos for the first time, of course he does.
"Secondly, sprouts off [starts weeing]. I'm looking at him thinking this didn't happen to me all day.
"That's so unfair. She had to give birth to him and she was the one who got weed on first."
On Wednesday 22nd March Cheryl revealed that she and her parter Liam Payne welcomed a son into the world.
She uploaded a sentimental photo of Liam cradling their new arrival with a caption that reads as follows...
'On Wednesday 22nd March Liam and I became parents to an incredibly beautiful, healthy baby boy, weighing 7lb 9 and looking like a dream. Although he still doesn't have a name he is already stealing hearts. We are all madly in love and overwhelmingly happy with our little arrival. Happy Mother's Day to all the mothers around the world. A day that now has a different meaning to me forever'
The One Direction singer also took to his Instagram page to share a picture of himself cradling the newborn baby.
He wrote: "My close friends and family know there are very few times when I'm left speechless... wow!
"I'm incredibly happy to welcome our new baby boy into the world, it's a moment that I will never forget for the rest of my life and my favourite memory I have so far.
"I'm completely in awe of his incredible mother and how she has been the whole way through this, she's really made my dreams come true. We haven't named him yet but he's already capturing hearts including mine. I feel very blessed.
"Happy Mother's Day everyone!"
Cheryl gave birth to her new son at Chelsea and Westminster Hospital this week and a source revealed that she had Liam by her side the whole way.