Coldplay Rope In Rob Brydon To SING At Cardiff Gig And The Crowd Can't Cope
14 July 2017, 10:16 | Updated: 14 July 2017, 10:38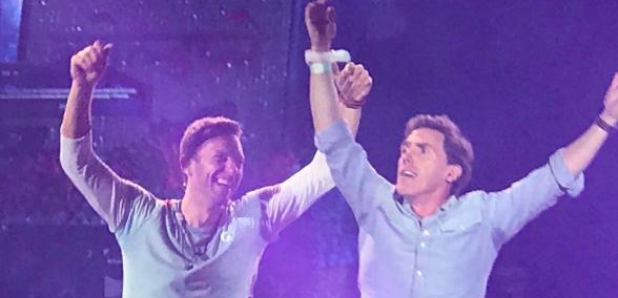 This is what happens when you take a Coldplay concert in Cardiff and add Rob Brydon to the mix... Gwlad, gwlad, pleidiol wyf i'm gwlad!
Have you ever heard anything naff about a Coldplay gig? No, because they're epic. From giving audience members their own light up wristbands that change colour in time with the music, to light displays that can be seen from space (probably).
Now, they've taken their concerts to a whole new level of legendary... by parachuting in Welsh comedian Rob Brydon at their performance in Cardiff.
As if the surprise couldn't get any better than this, Brydon wasn't there to perform a spontaneous standup routine. No, Uncle Bryn (as us Gavin and Stacey fans call him) only went on to lead the crowd in a rendition of the Welsh National Anthem.
Thank you Chris and @coldplay for a great night in Cardiff, what a thrill to sing in front of that crowd! pic.twitter.com/MkdDR7D8l1

— Rob Brydon (@RobBrydon) July 13, 2017
Taking to twitter after his performance, Brydon expressed his pure joy at the chance to sing in front of the mammoth Welsh crowd, thanks to Chris Martin and his band.
And as you'd expect, the fans couldn't get enough.
Actually feel sorry for anyone who didn't get to see Coldplay (and rob brydon) tonight, what an absolute DREAM

— Danielle (@daniellepows) July 12, 2017
As endings to concerts go, singing the national anthem led by Rob Brydon is up there #Coldplay

— Matthew Jones (@MatthewJones101) July 12, 2017
Rob Brydon turning up to the Coldplay concert to sing the Welsh National anthem was the highlight of my night #ColdplayCardiff

— els (@eloisecdenny) July 13, 2017
Still can't believe the finale of Coldplay last night was Rob Brydon singing

— erin (@Er1nLunn) July 13, 2017
We're do gutted we missed this one!