Coleen Nolan pulls out of Loose Women after tearful This Morning appearance
5 September 2018, 10:48 | Updated: 19 October 2018, 19:11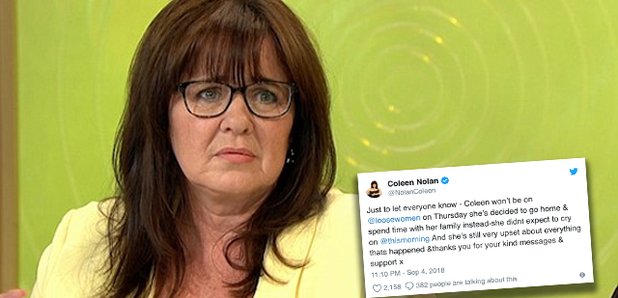 The singer-turned-presenter is choosing to spend more time with her family after thousands of complaints were made to Ofcom regarding her feud with Kim Woodburn.
Coleen Nolan has pulled out of presenting tomorrow's Loose Women - hours after revealing she planned to take a "long break" from the show.
Yesterday, the 53-year-old made a teary appearance on This Morning, where she opened up about the "worst week of her life" after she was accused of bullying her CBB rival Kim Woodburn, 76.
She revealed that she had been sent death threats by vicious trolls - with some wishing she was "dead from cancer like her sister Bernie".
Hours after her emotional appearance, her team tweeted that she would not be back on screens this week.
It explained that she is still "very upset" about the backlash she received after last Wednesday's episode - which has attracted over 7,000 Ofcom complaints.
Just to let everyone know - Coleen won't be on @loosewomen on Thursday she's decided to go home & spend time with her family instead-she didnt expect to cry on @thismorning And she's still very upset about everything thats happened &thanks you for your kind messages & support x

— Coleen Nolan (@NolanColeen) September 4, 2018
Coleen sat across from Holly and Phil and emotionally explained that it was never her intention to add fuel to the fire, and insisted: "I wish I could go back in time and not do it. It was ugly, upsetting and unpleasant for everyone."
Thousands of Loose Women fans demanded Coleen to be sacked from the programme after Kim Woodburn stormed from the stage in tears, following an 'attempt' to reconcile bad feelings between the two that had formed after their stints in Celebrity Big Brother.
Despite announcing that she was to embark on a solo tour for the first time in her life, Coleen's exciting news was tainted by online trolling and she admitted that it's been the "worst week of her life."
She explained to Holly and Phil: "I honestly, genuinely thought that it was… she was coming on to make amends, that's what I was told that was going to happen. And then we were going to have a laugh about it and make amends.
"So it was like, let's put it to bed, let's have a laugh about it, let's make amends. And it didn't go that way, obviously, from the moment she came out.
"It's just that, I don't know what I did wrong. I didn't say anything. I said about two things in that interview because I know what she's like and I just thought, she needs help really. And I feel terribly sorry for her. So I'm not going to say anything.
Coleen revealed the level of trolling had left her distraught, and continued: "Sometimes it's hard because I've never called her names or anything and she's called me every name under the sun – in print and on that show.
"And that's fine, I can deal with that. But to be called a bully and then to have messages going, 'Why can't you die like your sister?' 'Why can't you get cancer like your sister?' I've had a week of it.
"And in 50-odd years of doing a job I absolutely love, really love, and it's all I know how to do, now there's a campaign to get me fired
"I would never wish harm on Kim. I don't hate Kim. We'll never be friends and that's fine. But I would never set out to bully her.
"Do I react sometimes to being called everything she calls me? Yes. And sometimes I laugh because I think she's got a point.
"But it's just been a really hard week. Oh God I'm so sorry, I feel like such an idiot."