Coleen Explains Why She's Forgiven Wayne Rooney Despite HIS 'Selfish' Mistakes
24 November 2017, 16:07 | Updated: 12 July 2018, 13:59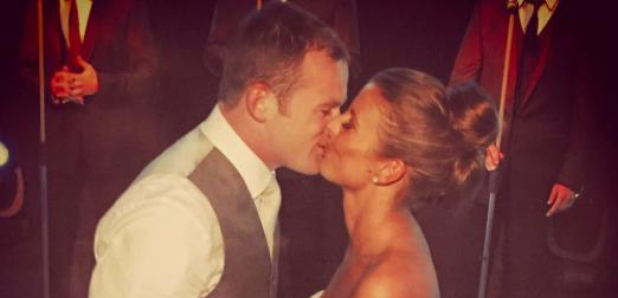 Coleen admits she thought her marriage was going to end but is fighting to save her relationship in an emotional Facebook post.
Coleen Rooney has broken her silence on her marriage woes with husband Wayne Rooney, after rumours they were on the verge of a split.
The 31-year-old star took to Facebook to share an honest and heartfelt post on Friday morning, where she revealed she is giving her nine-year marriage a second chance after the Everton star's 'silly and selfish mistake'.

Wayne rocked the waters in their marriage again after being arrested for drink driving while behind the wheel of party girl Laura Simpson's car.
However, Coleen has made clear that all is forgiven and shortly after writing the emotional message she posted a picture with her wedding band firmly back on her finger after being pictured without it recent weeks.
Addressing the speculation about the state of her marriage, Coleen wrote: "Before all the stories begin, Yes, I have put my wedding ring on....... A lot of people will be saying "you don't have to explain yourself, don't feel like you have to do this" etc, I know I don't, but I am and I want to.
"It didn't feel right wearing my ring, I see it as a sign of commitment and I was unsure what was happening. I don't always wear my ring day to day, especially when I go the gym."
The mum-of-three said she felt "stronger" as a person and wanted to speak out to set the record straight after deciding to give her relationship another go.
She continued: "A few people are probably thinking am stupid for staying in my marriage. I am not stupid, I know my own mind and it's something I want to try and work on.
"Before the headlines start.... No, I'm not taking Wayne back as he's never left."
"Yes, it has been a s**t time, and yes, time was spent apart and I thought my marriage might have been at an end.
"I'm not going to list Wayne's good qualities as a person as I don't think he deserves it at this time but one thing is that he is a brilliant dad.
"He's made silly and selfish mistakes, some he's learnt from, some obviously not. However, maybe that will change? In life, you don't know what's going to happen tomorrow."
The lengthy post went onto note Wayne's drinking, something which she appears to blame for his behaviour.
One thing I do know is that too much alcohol on a night out is a dangerous and a lot of stupid mistakes are made and things are said under the influence.
"I would never trust ANYONE who has had a lot of alcohol, it changes some people drastically."
According to The Sun, the couple are now planning to renew their wedding vows in their favourite holiday hotspot Barbados.
A source told the paper: "To say it's been a rough ride for both of them in recent months is an understatement. But we've been told they plan to renew their wedding vows next summer – maybe in Barbados."