This Corgi Trying To Feed Its Reflection A Bone Is The CUTEST Thing!
13 September 2017, 12:49 | Updated: 12 July 2018, 13:59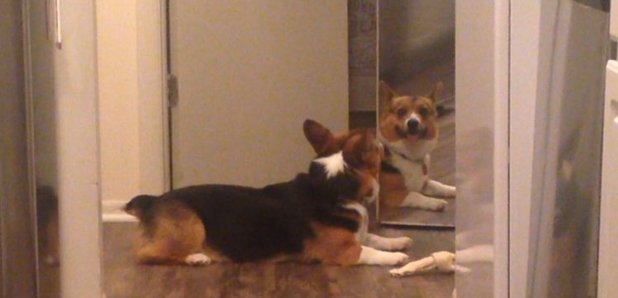 We can't get enough of this little pup's joy at thinking he'd made a new best friend.
They say a dog is every man's best friend, but one little Corgi found friendship that was way more meaningful than the one he had with his owner - his own reflection!
Twitter use Eric Smith took to the social networking site to share the hilarious moment his canine pal attempted to share his bone with his reflection and it's too cute!
He was walking past the fridge when he saw another corgi near by.
Not wanting his fellow furry friend to go without, he decided to share his lovely bone with him. And not being the brightest critter, he failed to realise that the dog in the fridge was, in fact, himself.
ADORABLE!
Of course, Corgi lovers around the world couldn't get enough of the clip and took to Twitter to share a string of memes.
The way he smiles at his friend! This is the most pure thing I've ever seen

— janeruffino (@janeruffino) September 8, 2017
Sent this to two friends and they both responded, within seconds of each other, "WE DON'T DESERVE DOGS"

— Rachel Stark (@syntactics) September 8, 2017
They are the best! My daughter's service corgi has changed her life. He is my hero. pic.twitter.com/3vI1ExwD7z

— Michelle Ruiz Keil (@MichelleRKeil) September 8, 2017
Now we understand why The Queen loves her corgi's so much!