Cruz Beckham's Manager Brands Piers Morgan A Bully After Those Comments On GMB!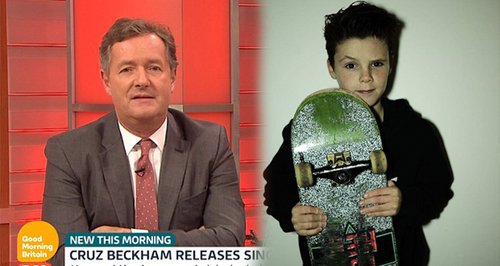 Piers Morgan was less than impressed with Cruz Beckham's Christmas charity single, If Everyday Was Christmas. But it's okay because his manager, Scooter Braun, has got his back.
Cruz Beckham's manager, Scooter Braun, has hit back at Piers Morgan after he slammed the eleven-year-old's debut single, If Everyday Was Christmas.
The Good Morning Britain presenter even went as far as to brand parents David and Victoria Beckham "pimps", claiming that they were using their son to boost their own profiles.
Scooter Braun also manages Justin Bieber and Ariana Grande. Picture | Instagram
Cruz released his Christmas hit earlier this week and all of the proceeds are going to Global's Make Some Noise charity.
Now, Scooter, who is also manager to Justin Bieber and Ariana Grande, challenged Piers to match whatever money Cruz makes for charity through the sales of his single.
I can't stand bullies

— Scooter Braun (@scooterbraun) December 7, 2016
Taking to Twitter, the music mogul jumped to Cruz's defence: "He is an 11-year-old who wanted to make a song to help other kids. Once again Piers shows why he is a jackass and why his show was cancelled... Some people in this world make a living out of finding the worst in every situation. It means they have a career..not class. Just a career."
"@piersmorgan how about you match him dollar for dollar to the charity? Instead of criticizing [sic] step up and help these kids the way Cruz is .... @piersmorgan I will take that as a no...no u won't support charity like an 11 year old will. But u can judge kids when u get paid on BGT?
"@piersmorgan please answer my question and stop dodging with bs. Will u match his donation to charity? Or continue to be a hypocrite?"
Will Piers rise to the challenge? We'll have to wait and see...