Danielle Lloyd Divides Fans With Controversial Method For Ensuring A Baby Girl!
11 January 2018, 11:19 | Updated: 12 July 2018, 13:59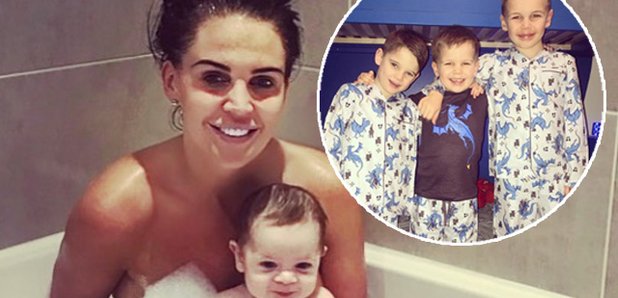 Danielle Lloyd was forced to defend herself after revealing plans for her fifth child.
Danielle Lloyd has defended her decision to opt for gender selection when she has her fifth child.
The model, who has three sons with ex-husband Jamie O'Hara and one son, sixteen-week-old Ronnie, with current partner Michael O'Neill has been open about her want for a baby girl.
Hoewever, the mum-of-four left some fans divided when she expressed that she has no concerns about opting for a designer baby for her fifth child to ensure she has a daughter.
Speaking to a UK radio station, she said: "It's always been my dream to have a little girl. It's about having that mix and bringing up a little girl."
"I know she might not be 'girlie' – she probably won't be with four brothers – but it's just about having a little mini-me almost."
the controversial gender selection process is currently illegal in the U.K. but Danielle revealed she plans to go to Cyprus in order to have the procedure, where it is legal.
Danielle was orignally met with backlash when she first revealed her plans, however she has continued to defend her decision.
"I could continue to have babies and hope I'd have a girl but I want to be realistic. I've got four boys at the moment and they are a handful," she explained.
Danielle also vented her fustration at parents who don't admit to having the procedure done and insists she's had widespread support from fans.
Danielle added she gets frustrated that more people refuse to admit to having the procedure, explaining: "A lot of people are doing it but they keep it quiet, and that is what is so frustrating for me."
Since welcoming baby Ronnie into the world, Danielle has snapped back into shape and is happier and healthier than ever and credits taking pills made from her placenta for preventing her from getting post-natal depression (PND), which she has suffered from in the past.
"My placenta tablets really did give me a boost. Before I've had PND and I never got it (this time) and I believe it's definitely down to the tablets."