David Who? 9 Reasons Brooklyn Beckham Is WAY Cooler Than His Dad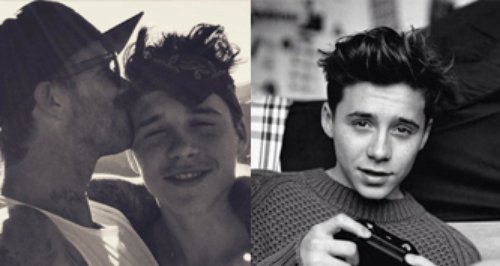 He's a former England football captain, a charity ambassador and a hunky male model, but it seems that national sweetheart Becks senior, is in the process of being replaced by a younger model...
The gorgeous 40-year-old superstar may be more than used to the limelight, but he's recently admitted that he's having to get used to life behind the lens for a change.
The H&M underwear model has had years of being showered with fans affection… but the time has come to pass on the baton.
"We normally get people now coming up and saying, 'Would you mind taking a picture with me?', and they're actually talking to Brooklyn rather than myself." he told Manchester's Key 103 FM. "I'm the one taking the pictures!"
Yes, with 4.6 million Instagram followers and counting, 16-year-old, entrepreneirual Brooklyn, with his feet firmly on the ground, is fast catching up with dad and we can see why...
He hasn't just copied mum and dad, but is brimming with his own passions (he's a budding photographer):
He's done his own magazine covers:
Oh and did we mention, EVERYONE wants to be his friend:
With a mum like Victoria Beckham, being a fashionista runs in his blood:
After all, he's a total mummy's boy (which we love):
He definitely puts in the graft:
He's a devoted big brother to Romeo, Cruz and of course… dear little Harper:
He loves the Queen almost as much as we do…