David Beckham CUTS Harper's hair after forbidding her from short locks
31 July 2018, 13:39 | Updated: 31 July 2018, 13:59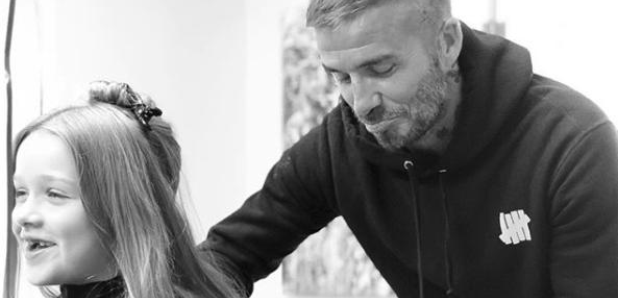 The doting dad of four, David Beckham, used scissors to snip his 7-year-old daughter's hair before she chopped off her lengthy tresses.
David Beckham has been very vocal over the years about not wanting Harper to cut her hair, however, the former footballer was let loose on his daughter's tresses in an adorable Instagram post.
The hunky dad of four shared a shot of him posing with a pair of scissors as he prepared to give Harper's hair a cut – after finally agreeing his youngest could cut her hair short.
Alongside the image, he wrote: "Someone's happy (smiley emoji) & someone's not so happy (scissor emoji) but I didn't think it was possible for this little one to look anymore beautiful but (heart)."
David has always made his feelings clear about Harper's hair, admitting that he was terrified to cut her long locks.
A few years ago, he told Yahoo Style: "About a year ago, my wife said, 'Maybe we should cut Harper's hair.' And I was like, 'No! We need to grow it. Do. Not. Touch.'
"Since she was born, we haven't cut it. 'That's why it's pretty much down to her knees. I had to. It's just so good, isn't it?'"