CRINGE! David Beckham Publicly Embarrasses His Son Brooklyn AGAIN
25 January 2017, 12:10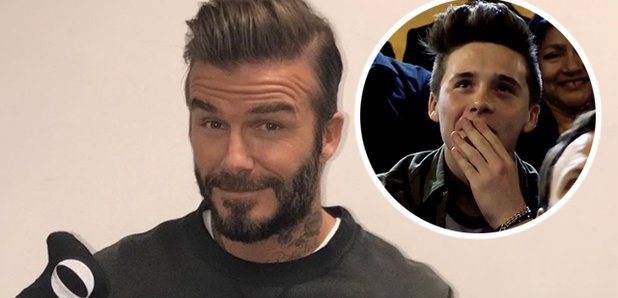 David Beckham's been humiliating his eldest son Brooklyn yet again and it's hilarious!
Just to because you're part of Britain's number one family, where money isn't an obstacle and you can't even count the famous faces in your friendship group, doesn't mean your dad isn't embarrassing.
How to be an embarrassing dad, according to David Beckham. Lesson number one: When your son is doing a live Instagram video to his fans, tell him he should be at school. In public.
The new feature on Instagram works in a similar way to Facebook live, where users can comment on the video as it's being recorded, with the messages popping up on the screen.
Poor Brooklyn Beckham, 17, was just chatting to his fans when his dad, David, 43, popped up with a message that read: "U should be at school".
And as if that wasn't savage enough, he also pointed out that Brooklyn was wearing his shirt! CRINGE.
It's not the first time that Brooklyn has been publicly humiliated by David. Every now and again, the former England captain comments on his son's social media posts to call him out on what he's wearing.
On of the funniest moments was back in 2015 when Brooklyn was filming a short video to celebrate that he'd reached one million followers on Instagram, David interrupted with: "I've got 52 [million followers]."
Talk about cramping your style, Dad!