David Schwimmer Looks Unrecognisable In The New Skittles Adverts!
26 January 2018, 12:31 | Updated: 26 January 2018, 12:43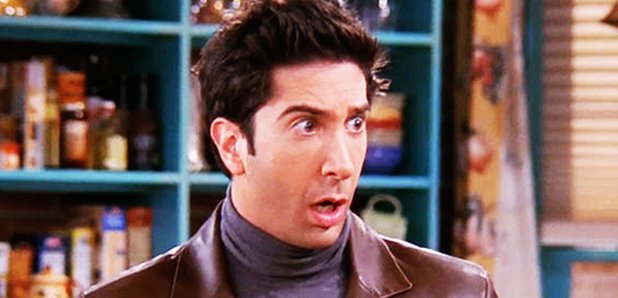 This is not "Ross from Friends" as we know him!
David Schwimmer is best known as Ross Geller in the legendary sitcom that is Friends.
But he's undergone some major transformations for the new batch of Skittles adverts:
Skittles have decided to give one seemingly random person a private viewing of their ad, and to tease it they've released a variety of short snippets, which feature Schwimmer donning some questionable facial hair and wig ensembles.
These adverts come as part of a weird new marketing campaign linked to the 2018 Super Bowl, which are designed to boycott the extortionate cost of the advertising space during the coveted half time slot (reportedly $5,000,000 per 30 seconds, in case you were wondering).
The company revealed: "The highly exclusive ad will not be leaked to the public, and no, this is not a joke. The ad will be revealed to Marcos on Super Bowl Sunday on Skittles' Facebook page. Menendez's reaction is the only thing the public will be able to view on Facebook and no one else besides him will ever see the ad, not even Schwimmer."
Marcos Mernendez, a seemingly random teenager from the USA, has been selected as the individual who gets to watch this secret ad, whilst the rest of us are being told to get on over to Skittles' Facebook page to watch HIS reaction.
Skittles' theory behind this idea is revealed in a spin-off add that the teenager posted on his new Twitter account:
Definitely best picture of me ever taken in this new @skittles commercial #mostexclusivead pic.twitter.com/nqSo58fsIx

— Marcos Menendez (@magikmarcos) January 17, 2018
The actor reads: "Sometimes what you cannot see is more interesting than what you can see", and we can't lie, we are pretty intrigued right now!
Last year Newcastle Brown Ale went viral for slamming the costs of the advertising space and producing a tongue-in-cheek commercial starring Anna Kendrick, who is seen asking other smaller brands to club together and gather enough money to afford a 30 second slot to compete against the big brands "getting all the fun".
And it seemed to work!
Welcome Kibo Yoga, Rosarita, Vanity Fair Napkins, @Charisma, @MrCheeseos, and @DixieProduct! #BandofBrands pic.twitter.com/tx94MQC9JX

— Newcastle Brown Ale (@Newcastle) January 26, 2015
The Super Bowl takes place on Sunday 4th February this year, with Justin Timberlake taking on the half-time performance slot.