Rockstar David Walliams Upstages Bryan Adams In THIS Hilarious New Video
Bryan Adams - Don't Even Try
02:46
The 'Britain's Got Talent' star upstaged the Canadian rocker in a eye-wateringly funny new music video.
David Walliams swapped his judges chair for a guitar as made a cameo appearance as a rockstar in Bryan Adam's brand new video for 'Don't Even Try'.
Displaying his best strumming skills, the TV funnyman steps in for Adams' guitarist and puts his all into the perfromance.
Hilariously, David dons a long blonde wig for his starring role, adding to the rock star vibe with his leather jacket and white jeans while he flashes the flesh with an unbuttoned snakeskin shirt. How very Mick Jagger!
The much-loved comedian Is seen thrashing the guitar strings before gyrating around Adams and his songwriting partner Jim Vallance, who is rocking out on the drums.

Obviously in need of a quick bite to eat, a pizza delivery bike drives up to the shoot before David rattles Bryan's pockets for some cash.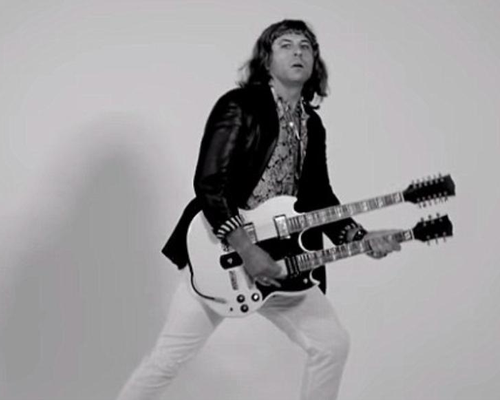 Credit: Youtube/Vevo
The pair's bromance steps up a level at end of the video where an emotional David leans in for a huge kiss and hug goodbye from his new bestie.
David used his scriptwriting skills to lend a hand to the music video after taking on a role as director for the singer-songwriter.
Speaking of the decision to have David star in the video, he joked: "My guitarist couldn't make the video and David Walliams said he'd sit in."
Well, we're glad he did!