Davina McCall defends posting bikini selfies at 50
22 June 2018, 12:57 | Updated: 19 October 2018, 19:27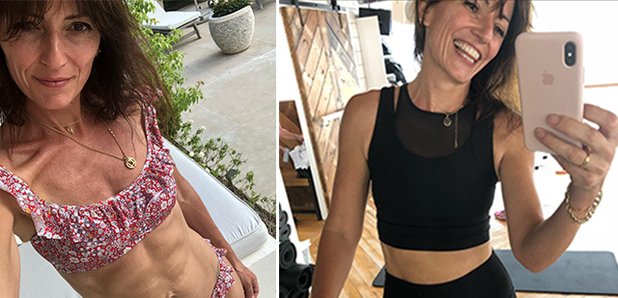 The TV presenter flaunted her impressive set of abs in her latest Instagram selfie.
Davina McCall definitely isn't shy about showing off her ripped torso.
Davina, 50, is a self-confessed fitness fanatic and has the body to prove it.
The mum-of-three uploaded a selfie showing off her incredible six pack and added the caption: "Hi. It is the beginning of the summer. And this is a bikini selfie. And it probably won't be the last. No apologies."
Davina also revealed that she feels all the more better for exercising regularly, and eating well.
She continued: "I get asked all the time how many times I work out a week. 3 times minimum ... 4 ideally.. 45 mins to an hour.
"Can't run at the mo so I do a mixture strength and cardio ... i have so much to be grateful for... my kids are number one but right behind them at no 2 is how my fitness journey has made me feel.
"If I'm groggy, sluggish, negative it always sorts me out ... if you are starting ... start slow... set small goals... achievable goals... you will get to where you want to be. I did. And if I did (after years of yo-yo dieting and binge exercise) you can."
Fans were quick to compliment Davina on her slender figure, with one writing: "Really impressive, great example to the rest of us", whilst another put: "You look amazing!"
A third added: "So you should post selfies. You should be so proud of your body and clean healthy living. Also enjoying it. So please keep posting. Because you keep me motivated."
Others were even asking if they could enlist her as their own personal trainer, with a fan commenting: "I'd love you to be my trainer, l'm really wanting to feel like me again, HELP!"
Davina has three children, Holly, 16, Tilly, 14 and Chester, 11, with her second ex-husband and Pet Rescue presenter Matthew Robertson - although the two split last year.
Davina has released a total of 14 fitness DVDs, with fans loving her variety of workouts as a source of inspiration.
WATCH! Davina McCall opens up about her split from her husband: