Davina McCall Reveals Secret To Long Marriage And It Involves An Egg Timer!
27 October 2017, 11:57 | Updated: 27 October 2017, 12:12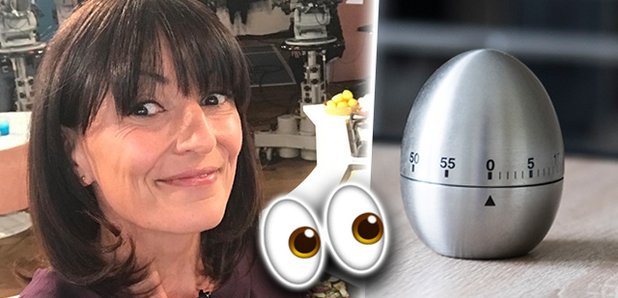 It actually really makes sense.
Davina McCall has been married to husband Matthew Robertson for an impressive 17 years, and they share three children together - son Chester, and daughters Holly and Tilly.
The pair decided to renew their wedding vows two years ago in Las Vegas, with all their children present, and looked the picture of loved-up perfection.
The TV personality has always been very open about her relationship in a bid to provide support and advice to fans, and even penned a book last year titled 'Lessons I've Learned: I've Made The Mistakes So You Don't Have To'. It covers all areas of her life in an honest and frank way, including how she has learned to live with her husband's annoying habits.
And, in a recent interview with Red magazine, Davina has revealed another really simple and easy way to help maintain a happy and healthy relationship.
It involves an egg timer - but it's not as odd as it sounds.
WATCH: "I Married Myself...Then Had An Affair!"

She explained: "You get an egg timer and you each take three minutes to say how you're feeling. The other person is not allowed to interrupt, to shout, to argue, to get up.
"They just have to sit and listen and try not to think only about what they're going to come back with. Then they get to reply in their three minutes."
This can be continued back and forth numerous times, for as long as it takes to reach mutual ground. The idea is to allow both of you to get things off your chest without it becoming more heated and erupting into a full-blown row, where neither of you actually get to the root of the problem.
She continued: "The best place to get to, which we do usually get to with the egg timer, is where we'll actually say, 'I'm sorry about that.' Mutual apology is amazing."

Not only is Davina one of Britain's most loved presenters, she has also become a fitness icon over the last few years, having released an impressive THIRTEEN different work-out DVDs, and taken part in some seriously extreme fund-raising activities for charity.
A happy marriage, a healthy lifestyle, a busy working schedule... Davina has got this whole 'life' thing sussed!