Dec's Adorable Dachshund Rocky Received Treatment From 'The Supervet'
8 May 2017, 13:07 | Updated: 8 May 2017, 13:14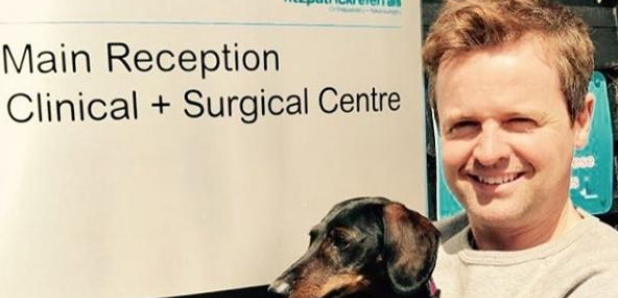 Thankfully Dec has confirmed on Instagram that Rocky is back on the mend again.
The UK is a nation of dog-lovers, so it's heart-warming to see that everyone's favourite TV presenting pair are just as smitten with their pooches as the rest of us.
Fans of Ant and Dec will already know that the Geordie duo absolutely love their four-legged friends. Ant is head over heels with his brown Labrador, Hurley, while Ant adores his cute Dachshund, named Rocky.
But – oh no! – it seems that Rocky has not been particularly well of late, as his Saturday Night Takeaway star owner Dec has shared an Instagram snap that suggests the pup had been in need of medical treatment.
Sharing the snap of him and Rocky standing outside a vets' clinic, Dec wrote in the caption: "HUGE thanks to Noel and the whole team for fixing our Rocky. We are in awe of the amazing and groundbreaking work you do every single day to save and fix our beloved pets. We are so happy to have him home. Thank you."
Dec didn't reveal what was wrong with the delightful Dachshund, but we're relieved to hear that Rocky is better now!
Of course, being a star pup, Rocky couldn't just pop into any old veterinary clinic, so he was whisked into the arms of celebrity vet Dr. Noel Fitzpatrick, who was the subject of the Channel 4 telly show The Supervet.
Noel responded to Ant's heart-warming post and wrote: "Pleasure to meet Rocky and get him home again. Animals are family."
This comes after Dec discussed his and Ant's love for their pets in an interview with The Sun. "We have dogs who are best pals," said Dec. "Ant has got a big brown Labrador and I've got a miniature dachshund. There's only three houses between us, and the dogs bark over the fences to each other."
Ant piped up: "The little one bosses the big one around, so it's a bit like their owners!"
What a cheeky monkey! The news of Rocky's improved health has brightened up our day no end – and we're sure that Hurley is just as thrilled as we all are.