These Fans Are ENRAGED At Denise's Pasta Making Method On 'EastEnders'
10 May 2017, 12:53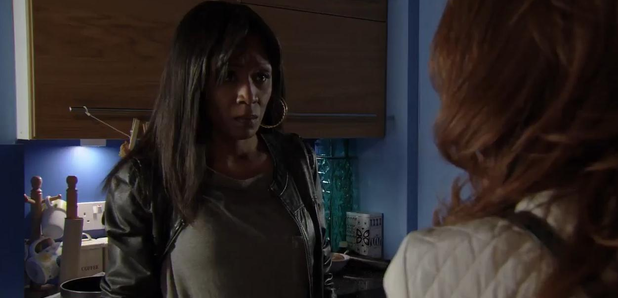 Seriously, who puts the pasta in BEFORE the water?
Albert Square is a tense place right now. Mick is set to return to the Queen Vic, where he will find a rival named Woody behind the bar. Madison and Alexandra are being absolutely awful to Louise and Sonia recently had a right go at Sharon.
But wait a minute – worst of all, Denise (played by Diane Parish) makes pasta by pouring the water in LAST. Everything is upside down and nothing is as it seems. Fans were up in arms about it and, to be honest, we think we need a lie down too. What is the world coming to!?
Cash-strapped Denise is struggling so badly for money that she recently sold her favourites necklace for a mere five pounds (if she's lucky it might be worth £50, but we wouldn't like to count on it) and the last thing she needed was a showdown with Carmel (Bonnie Langford) in the kitchen. And yet that's exactly what she got.
Carmel was angry that Denise had split with Kush, not realising the decision was inspired by her money troubles, and snapped: "You gave your son away!"
This caused Denise to slap Carmel – and what a whopper it was! – and for her efforts was rewarded with a killer putdown: I thought you were my friend, but it turns out you were just a grubby little tramp." Ouch!
But that's not what fans focused on. Instead they homed in on Denise's unusual cooking methods, mocking the character's topsy-turvy method of cooking a simple pasta dish.
@MoxillaORIG is stunned
Denise, what are u doing to that pasta? Try adding it to boiling water please! #eastenders

— RealMoxilla (@MoxillaORIG) May 10, 2017
David is underwhelmed
Denise pouring pasta into a pot is probably #eastenders least dramatic boom boom boom ever!

— David (@DavidtheFixer) May 9, 2017
@laurawager is shaking her head
why is Denise emptying pasta into an empty pan? Where's the boiling water? Why are the writers terrible at cooking and writing? #eastenders

— L (@laurawager) May 9, 2017
This might be the biggest TV scandal since fans were aghast to see David Tennant making a cup of tea in the MICROWAVE in an episode of Broadchurch. Rest assured, we'll keep our eyes peeled for any unusual gastronomical goings-on in telly land in the future!