Dick Van Dyke Wows Crowd With 'Mary Poppins' Dance At Disney Event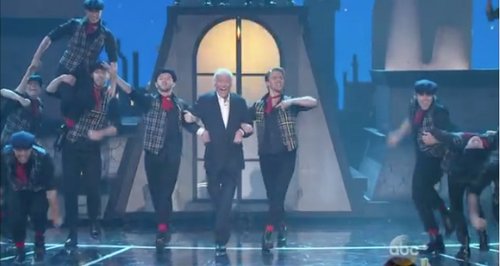 He may be 90-years-old but Dick Van Dyke still knows how to 'Step In Time'! Watch the video here...
What. A. Legend!
Dick Van Dyke has proved that age will never stop him from entertaining his fans at a special event celebrating the best of Disney.
The 90-year-old entertainer who's famous for playing Bert in 'Mary Poppins' jumped on stage with a load of professional dancers to showcase his best moves from 'Step In Time'.
Watch it here...
He may be 90-years-old, but Dick Van Dyke still has the moves! The Emmy-winning actor brought the house down during last night's tribute to Disney on ABC! http://abc.tv/1QPhztQ

Posted by ABC7 Morning Show on Monday, 22 February 2016
Dick was showing his support for Disneyland 60 – a special diamond anniversary event dedicated to the worldwide theme park and home of magic!
Harrison Ford was on-hand to talk about 'Star Wars' letting slip hints of a 'Star Wars' theme park coming soon…well, who doesn't want to go on a Death Star roller coaster?!
Watch the original all-singing, all-dancing version of 'Step In Time' from 'Mary Poppins' here…
What do you think? Are you singing along already?