Dick Van Dyke Is Gutted That No One Told Him His Cockney Was Rubbish!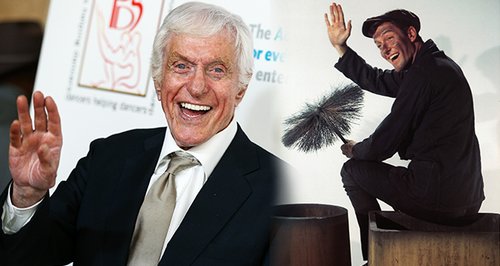 It turns out that Dick Van Dyke only found out his cockney accent was dodgy AFTER the film was released...
Mary Poppins is just one of those films that we can watch over and over again. It's an absolute classic, including Bert's questionable cockney accent.
Bert, who is played by legend Dick Van Dyke, was the lovable, charming, chirpy chimneysweep man-friend of Mary in the 1964 Disney classic. But it seems that at the time he had no idea how naff his east London accent really was until after the film was released.
Dick van Dyke played Bert in Disney's 1964 Mary Poppins. Picture | REX
Now 90-years-old, Dick Van Dyke has told the Observer newspaper that "no-one said anything" about his accent in Mary Poppins.
The 90-year-old actor famously played Bert in the 1964 musical movie alongside Julie Andrews – who starred as the titular Mary Poppins – but has admitted his fake accent wasn't up to scratch, and none of the cast told him.
Dick said: "Someone should have told me I needed to work on my Cockney accent. Nearly everyone in the 'Mary Poppins' cast was a Brit but no one said anything.
"I was given an Irish coach whose Cockney was much better than mine. Years later I asked Julie [Andrews], "Why didn't you tell me?" She said it was because I was working so hard."
The news comes as Disney plan to reboot the classic movie in the form of 'Mary Poppins Returns', which is set to be released in time for Christmas 2018 and will star Emily Blunt in the lead role.
Speaking about her casting, Emily said previously: "It is my dream.
"I mean, she's such an iconic nostalgic figure for people. So it's a gift to give to my kids that I get to be this generation's Mary Poppins.
"We did an incredible workshop of the script a few weeks back. It's so heart racing, so exciting. It's a complete different re-imagining of the whole thing. And I'm scared and thrilled to be in it and it's cool."
As of yet, the role of Bert has not been recast for the upcoming remake, but Colin Firth, Meryl Streep, and Ben Whishaw are also set to star.