Doctor Foster Viewers Gobsmacked By TWO Major Blunders
20 September 2017, 11:27 | Updated: 20 September 2017, 15:23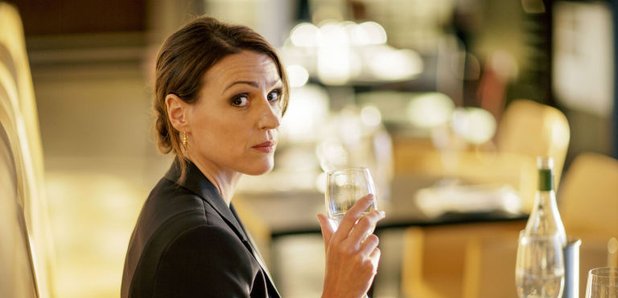 While the focus of last night's episode was Gemma's steamy sex with her ex-husband, many viewers were too busy spotting filming gaffes.
Another week of Doctor Foster - another six million of us stressing about Gemma's questionable decisions!
The third episode of the second series saw Gemma and ex-husband Simon 'do the deed' in the steamiest scenes yet.
Gemma's plan was to film the so-called 'revenge' sex and use the evidence to break up Simon and new wife Kate, but after the plan was foiled, they decided to go ahead anyway – SIGH!
Whilst Gemma and Simon were going all 'Fifty Shades' on us though, many viewers were too busy laughing at the continuity blunders.
In one scene Gemma was seen to start cooking a dinner of pasta, chicken and broccoli for son Tom.
She's spotted doing various culinary actions such as boiling the kettle, chopping veg and grating cheese.
However, just minutes later, Gemma has managed to cook the complete meal.
Taking to Twitter, several branded her super woman, with many impressed and shocked over her speedy skills.
most disturbing thing about last night's #doctorFoster was dinner: raw broccoli, cold chicken from the fridge mixed into barely cooked pasta

— rianda (@rianda99) September 20, 2017
The only thing we have learned from tonight's #DoctorFoster is Gemma can pull together a dinner quicker than she can down a glass of wine

— Just..Jacqui (@YehJacqui) September 19, 2017
The main question I have about #DoctorFoster series two is how the hell she cooked that dinner in 90 seconds.

— Martin Ruddock (@sugarraybuzzard) September 19, 2017
In a separate scene, Gemma goes to her fridge to hurriedly pour herself yet another glass of white wine.
In the next few minutes, the same door magically opens and shuts without her going near it!
Again viewers were quick to pick up on the gaffe:
Continuity fail! The fridge is open, then it's closed, then it's open again. All by itself. #DoctorFoster @BBCOne pic.twitter.com/0N0ODMnzV9

— Sharon Forbes (@BlondeMzungu) September 19, 2017
HOLD UP A MINUTE the fridge was open when she got wine, closed behind her when she looked at her phone then OPEN AGAIN #DoctorFoster

— Emma K O (@EmmaKirkyO) September 19, 2017
Doctor Foster is back on BBC One next Tuesday at 9pm.