Eamonn Holmes Totally Trumps Scarily Accurate Makeover As The US President
8 November 2017, 12:36 | Updated: 8 November 2017, 12:37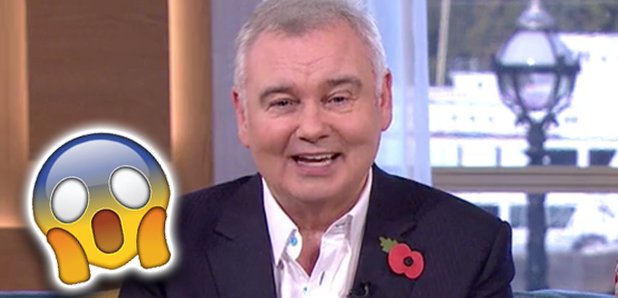 This is something that you cannot un-see!
Eamonn Holmes has turned heads after undergoing a questionable make-over.
The This Morning presenter has dyed his hair a shade of platinum blonde, upped the fake tan and donned a white shirt, navy suit and red tie.
Does this get-up ring any bells?
Any trump-shaped bells?
Going blonde and Orange for a new series. Have I trumped it ? pic.twitter.com/liYnylAA8Q

— Eamonn Holmes (@EamonnHolmes) November 7, 2017
Eamonn posted his transformation on his social media with the caption: "Going blonde and orange for a new series. Have I trumped it?", and tagged a parody twitter account of the US President in the image.
Fans of the presenter were quick to react to the comical image:
Unfortunately very Uncanny

— Ellie-serene Lander (@MissEllieSerene) November 7, 2017
This is too freaky!

— Tanya (@Roberts_Tanya_) November 7, 2017
Ha !! This is awesome

— Suzi (@suzy1402) November 7, 2017
Apparently this fancy dress attempt isn't for Eamonn's sheer enjoyment; he's revealed that it's all in aid of a new show - which we are now intrigued to discover more about!
When he's not dressing up or presenting This Morning, Eamonn is busy supporting his wife Ruth Langsford who is still currently in the running to win this year's series of Strictly Come Dancing.
Last week Ruth suffered a dance floor mishap after tripping and ending up on top of dance partner Anton Du Beke, which her husband couldn't resist having a cheeky dig at on his Instagram page:
Eamonn and Ruth have been married for 7 years, having been together since 1997. Together they have one son - Jack Alexander.
The presenting legend also has three other children from his previous marriage - daughter Rebecca, and sons Declan and Niall.
We look forward to finding out more about why this Eamonn/Trump hybrid is happening!
WATCH: Ruth Langsford Shocks Strictly Fans With Eamonn's Cruel Nickname For Her: