Ed Sheeran Has Some Disappointing News For His Fans
18 October 2017, 07:52 | Updated: 18 October 2017, 09:20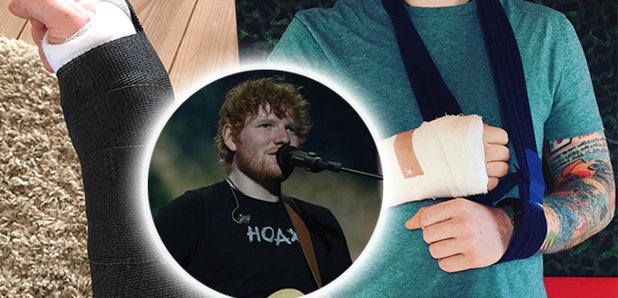 Ed has announced the bad news on his social media.
Ed Sheeran made headlines earlier this week after news emerged that he had been involved in a road traffic accident.
The 'Thinking Out Loud' singer was struck by a vehicle whilst cycling on his bike through London.
He has now confirmed the very thing that fans were fearing - his tour will be affected.
Posting on his Instagram page last night, Ed captioned a picture of his arm in a cast with the words: "A visit to my doctors confirmed fractures in my right wrist and left elbow that will leave me unable to perform live concerts for the immediate future. Sadly, this means that the following shows will not be able to go ahead as planned: Taipei, Osaka, Seoul, Tokyo and Hong Kong. I'm waiting to see how the healing progresses before we have to decide on shows beyond that. Please stay tuned for more details."
Making some light of the bad news, he added: "PS - Ed isn't typing this as he has both arms casted/bandaged."
Ed confirmed gigs in Taipei, Osaka, Seoul, Tokyo and Hong Kong, which were scheduled for October and November, will be cancelled. Following those, the singer/songwriter is headed straight for the Philippines and Indonesia, but it is yet to be announced whether any of these further gigs will be affected. There is also no news of whether the cancelled gigs will be rescheduled.
In a bid to stop fans worrying, Ed was quick to confirm the bike accident earlier this week, and posted a photo on Instagram to say that he was fine - but he had injured both his arms.
Concerned fans reacted to the news by sending well-wishes to Ed on Twitter:
Get better soon #EdSheeran

— Seannie Kennedy (@Seannie_Kennedy) October 16, 2017
@edsheeran get well soon my beautiful #EdSheeran

— Lizzy (@Lizzy71013065) October 16, 2017
We are sending you our best wishes for a speedy recovery, Ed.
WATCH: Girl Freaks Out Over Ed Sheeran Meet And Greet: