WATCH: Ed Sheeran's Appearance On 'Carpool Karaoke' Has FINALLY Arrived!
7 June 2017, 09:46 | Updated: 7 June 2017, 11:40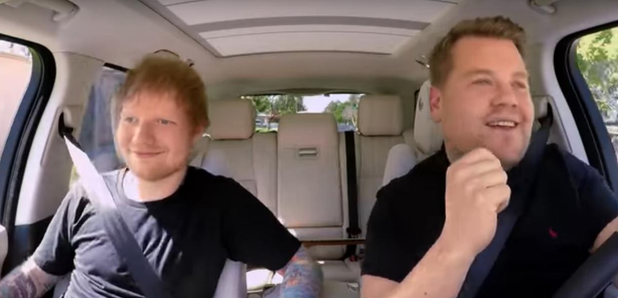 The stars were seem filming in February and we've been waiting with bated breath ever since!
It's finally happened! 'Shape Of You' star Ed Sheeran has finally made our dreams come true and appeared on 'Carpool Karaoke' with James Corden.
The singer was spotted filming the skit all the way back in February, but now AT LAST the clip is available to watch online. And it is, of course, absolutely hilarious! We knew that Ed would play some of his own songs, but the fantastic news is that he and James also belted out hits by One Direction ('What Makes You Beautiful') and Justin Bieber ('Love Yourself', which Ed co-wrote).
Of Ed's own songs, he and his trusty acoustic guitar treated us to renditions of 'Shape Of You', 'Castle On The Hill', 'Thinking Out Loud' and 'Sing'. All our favourites!
He didn't rap, though, sadly. Why do we bring this up? Because Ed said earlier in the year: "I know the whole thing is singing to your tune, but I think I'd feel a bit awkward singing to my song," Sheeran said at the time. "I think I'd just want to put on some Biggie… I want to put on something really awkward and dirty… and just hear James Corden sing along to that."
However, he did something even more unexpected – he saw how many Maltesers he could fit in his mouth. Clue: it's really rather a lot.