Ed Sheeran Quits Twitter After Fans Game Of Thrones Backlash
19 July 2017, 08:10 | Updated: 19 July 2017, 08:13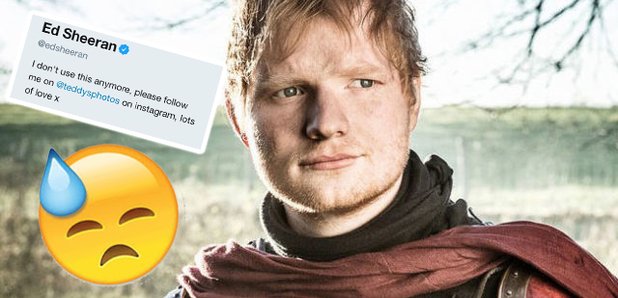 The singer starred in a recent episode of the show which received mixed reviews.
Ed Sheeran has completely quit Twitter.
The 'Shape of You' singer previously hinted that he was taking some time away from the social media site after he revealed he felt there was too many "mean" people out to "ruin" his day.
But now it seems rather than just taking a step back, the flame headed singer has had the final straw and completely deleted his Twitter!
His account on the micro-blogging site abruptly disappeared little after he made a cameo appearance in the the HBO fantasy series 'Game of Thrones', which prompted a mixed response from fans of the series.
Confessing his disdain for the site he explained: "I've actually come off Twitter completely. I can't read it. I go on it and there's nothing but people saying mean things. Twitter's a platform for that. "One comment ruins your day. But that's why I've come off it. The head-f**k for me has been trying to work out why people dislike me so much."
But by the looks of it, Ed's Twitter is still available and the most recent Tweet reveals that he has simply deactivated his account in order to get rid of all of his previous Tweets.
I just activated @Tweet_Delete on my account to automatically delete my old tweets (https://t.co/mMikZN31WM)!

— Ed Sheeran (@edsheeran) July 17, 2017
We hate that Ed has been so effected by online trolls!
But it hasn't put him off social media completely as he seems to be a big fan on Instagram. The singer posts frequent pictures from his tours and most recently uploaded a sweet picture of he and girlfriend Cherry Seaborn at the top of a mountain in Peru looking very pleased with themselves.
And despite the unfortunate Game of Thrones backlash, he still seemed chuffed to bits to be starring in what's arguably the world's most popular TV show right now.
In the past couple of days he's uploaded photos of himself decked out in full Lannister armour in character as a soldier.
If we were lucky enough to bag a role on that show Ed we'd shout about it too!