There's An Ed Sheeran Song For Every Stage In Your Relationship And We Can Prove It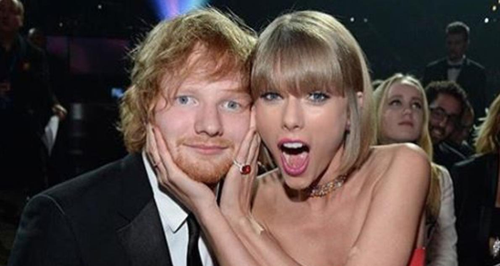 Here's the ultimate Ed Sheeran playlist that will sum up your relationship.
It's Ed Sheeran's birthday and he turns 24 on Wednesday!
The 'Lego House' singer has won an armful of awards over his short career spanning 42 awards and 104 nominations! He's dated the famouses - like Ellie Goulding, Nina Nesbitt and (rumoured) Taylor Swift - so he's had a lot to write about.
From the days when he volunteered in a soup kitchen (which inspired A Team) to the day he released his own film, Ed Sheeran has known courtship, love and heartbreak. This real life experiences have led him to create two albums worth of songs for us to listen to at every stage of our relationship. Thanks Ed!
When You Fancy Someone But They Don't Know It Yet
'Friends'
It's a song about two friends who like each other but neither of them have the courage to say it to the other, so they're stuck in an in-between place. They're more than friends but not quite anything else. Does this sound familiar?
You're Fooling Around But You Like Them More Than They Like You
'Don't'
You're seeing someone and you've been going on a few casual dates together. You're both having fun but you want to take it up a notch. They don't realise that you feel that way and are still dating other people too.
Rumour has it that this song is about Ellie Goulding who was seeing Ed Sheeran but cheated on him with One Direction's Niall Horan. Both Ed and Ellie are now on good terms.
You're Just So Happily In Love!
'Wake Me Up'
This song is about that ecstatic feeling you have when you wake up and remember you are madly in love and you just can't help but grin from ear to ear!
You Can't See Yourself With Any One Else
'Thinking Out Loud'
When you realise that there is simply no one else for you, you have to play this song! Here Ed is singing about how he wants to grow old with the person he's fallen in love with.
You're Desperately Trying To Make It Work For Now
'Lego House'
You're both just trying to make it work for now but you can both see that it won't last, hence the Lego house that can be knocked down.
This video feature's Harry Potter's Ron Weasley - or Rupert Grint as he's known in the Muggle World!
Those Post Break-Up Blues
'Drunk'
Breaking up with someone is never easy, particularly the first few days when the feelings are raw. Here, Ed is singing about the irrational need we feel to drink alcohol and meet new people to forget person we just parted from.
This video features Ed's ex-girlfriend, singer Nina Nesbitt.
Finding Someone New But You Really Want The Old Love
'Give Me Love'
When you've moved on from the person you broke up with and you've found someone new. But it's not quite the same and you find yourself pining for the old love.
When You've Been Dumped But They Try To Get Back In Contact
'You Need Me, I Don't Need You'
This song is actually about the music industry and how managers and labels use his talents to make money. But it works just as well if you've just been dumped. Put this song on repeat and you'll feel epic!